A Solid 7 – A review of Prestigio MultiPad 7.0 Prime 3G
03/05/2013
The majority of modern Android-based tablet PCs with 7'' diagonal don't have many additional capabilities. As a rule, these are low-end devices that can only boast of their low price. Is it possible for a 7'' tablet to have a wide range of wireless interfaces and a favourable price? Prestigio MultiPad 7.0 Prime 3G attempts to answer this question. Let us see if it succeeds, and what highlights the Prime can offer.
Delivery Package
Apart from Prestigio MultiPad 7.0 Prime 3G (hereafter – PMP7170B3G), the small and neat cardboard box of red and black colours includes: a pocket case, a microUSB battery charger (220 V, European plug), a USB-microUSB cable, a USB-OTG adapter for connection of peripherals, and a brief user manual.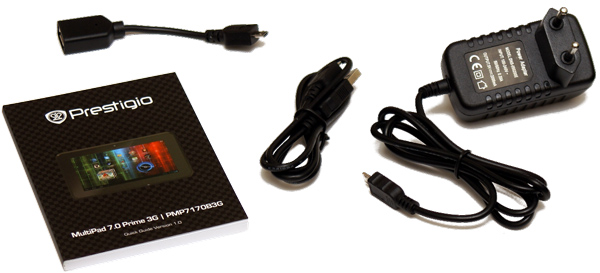 Despite the fact that this is an inexpensive tablet, the pocket case included in the package is rather presentable: this isn't some piteous cloth as in the case of many nameless Chinese tablets, but a high-quality pocket case made of leathercloth, and decorated with the manufacturer's logo. The case's soft interior coating will protect the tablet from small falls.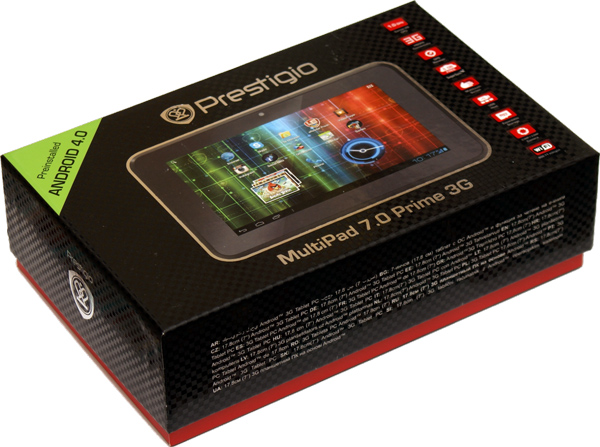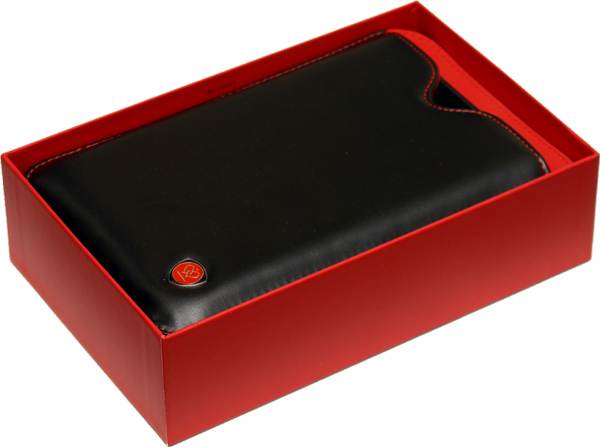 In other respects, this is a standard delivery package for low-end tablet PCs. If it included more items, it would cost more, which, consequently, would unreasonably narrow its potential audience. Therefore, we shall not focus our attention on the delivery package any more, and shall begin our acquaintance with PMP7170B3G itself.
Appearance
The device's body is made of high-quality black plastic. The plastic is rather nice to the feel, and creates a light sense of rubber-coated surface. The tablet is light, and it is convenient to hold it with one hand, both in the landscape and portrait orientation. Considering that this device can be used as a phone, this is a noticeable advantage. While having 198*123*12 mm dimensions, this device weighs only 355 grams – an excellent result for a 7'' tablet. PMP7170B3G's front panel is reflective, but doesn't have bright flares in sunlight. As in the majority of tablets, the front panel is mainly occupied by the TFT screen with 800*480 resolution and multi-touch support. The horizontal viewing angle is good: the colours almost aren't distorted. The vertical viewing angle isn't as good: colour inversion occurs even at slight tilting. On the other hand, brightness capacity is fairly decent: the display remains legible even in sunlight. For this class of devices, I would evaluate PMP7170B3G's display as a good one.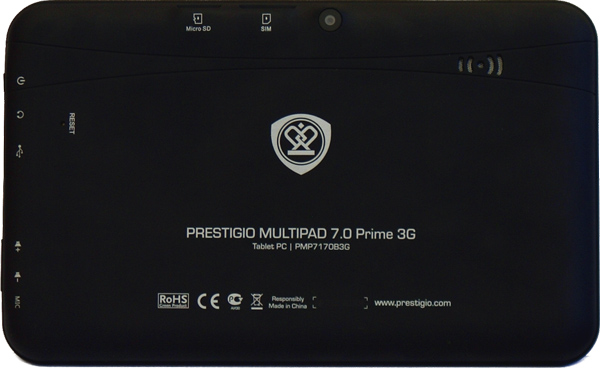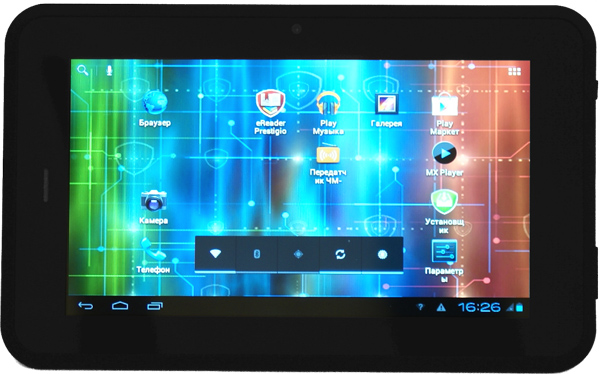 Apart from the display, the front panel also has a front-face camera with 0.3 Mpx resolution and a phone loudspeaker covered with a silvery grill. The front-face camera takes rather acceptable images for Skype conferences, and the loudspeaker ensures good sound and volume during phone conversations.
There are no functional elements on the tablet's right side. The left side has a volume control key, the microphone's aperture, a 3.5 mm headphones output, a microUSB output, and the device's ON/OFF pushbutton. The microUSB output is used for charging, synchronisation with a PC, and connection of peripherals. Thus, if you need a motorcar charger for PMP7170B3G, there would be no problem buying it; only you should take note of the output current – the tablet needs at least 1.5 A to charge (preferably 2 A).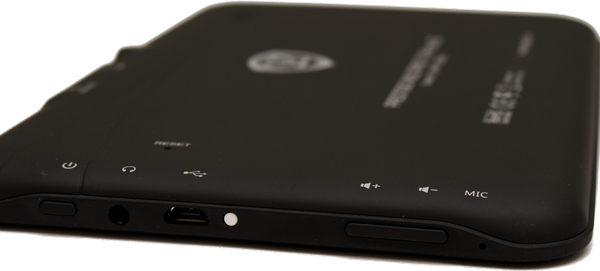 The top side includes uncovered slots for microSD memory cards and SIM cards. The cards won't fall out because they are securely inserted in their respective slots with a characteristic click. SDHC standard is supported; I have successfully tested 16 GB and 32 GB memory cards. The lower side doesn't have any interesting elements, too. Tablet's rear panel has a multimedia loudspeaker, a 2 Mpx camera, and a flush-mounted reset button. The multimedia loudspeaker's volume is fairly good: thanks to it, I could hear well the commands of navigational programmes in my motorcar even when radio was playing.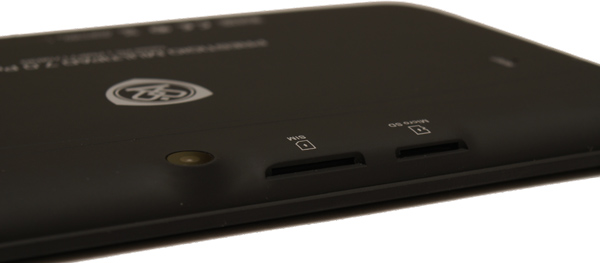 You'll need a pin to reset the tablet, so you'd better stick it in the case. PMP7170B3G is powered by the built-in non-removable 3,000 mAh lithium-ion battery. Autonomous operation period is 3 hours and 20 minutes in the video playback mode. It is quite possible to watch one film and to surf the Internet a bit without external power supply. This is a fairly decent result as compared to other low-end tablets. In particular, my old tablet with similar hardware worked hardly for 3 hours.
Tablet's full charging time is almost 4 hours, which is quite a long time for a 3,000 mAh battery.
Hardware
PMP7170B3G utilises the popular processor MT6575 ARM Cortex A9 with 1 GHz clock frequency. It has only 512 MB RAM, and utilises PowerVR SGX531 video accelerator. Such specifications could seem modest for a modern tablet PC; however, don't forget that the display resolution isn't large. This performance is enough for a comfortable work of the operating system and most user applications. 720p videos play properly, which isn't the case with 1080p BD rips – the built-in MX Player begins to skip frames. However, the 1080p resolution just isn't needed since there is no HDMI output. USB flash drives, card readers, and keypads can be connected to the tablet thanks to the presence of the USB host. This allows substantially extending the capabilities of data sharing with other devices, and organising a convenient input of substantial volumes of text.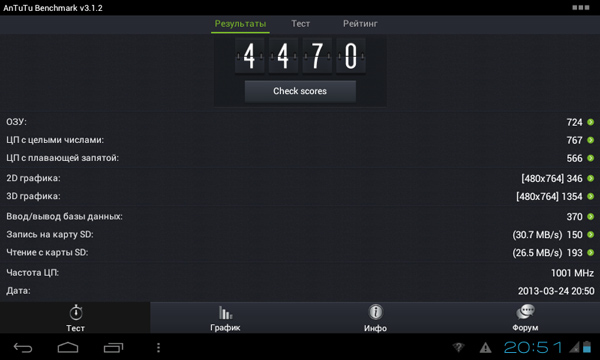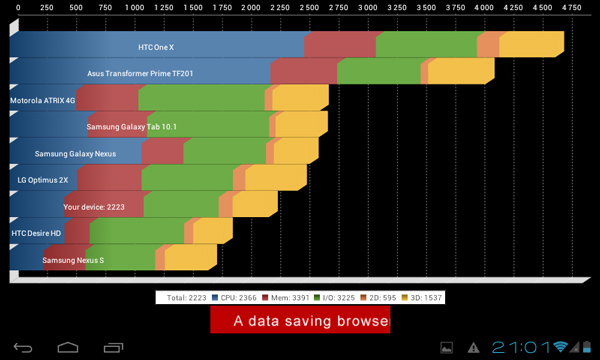 The Wi-Fi module's operation is fairly good: my weekend of Internet surfing was perfect. The module supports the standards 802.11b, g and n; n mode's operation was stable with any of my test access points, including the low-end ones – TP-Link and ZTE.
The built-in GSM module can operate in GSM 1800, GSM 1900, GSM 850, GSM 900, WCDMA 2100, and WCDMA 900 networks, supporting both the old GPRS and the modern HSDPA. I would evaluate the GSM module's sensitivity as a good one: the tablet ensures communication of the level of the best modern mobile phones even in problem areas, such as cellars or land plots in the country. Actually, PMP7170B3G is also a mobile phone; it allows making calls, and receiving and sending SMS messages. If your hand is large enough, you can simply put the tablet to your ear and speak. However, if it isn't convenient for you to use such method of phone calls, you can use the built-in Bluetooth 4.0 LE module to connect a wireless headset.
It should be noted that when SIM card is replaced, the tablet must be restarted, so that the telephone module can read the new SIM card. The built-in disk space is 4 GB, of which 2.1 GB can be accessed by the user.
Now, we shall examine some rather curious capabilities of PMP7170B3G that make it stand out amid other tablets. I, for one, think that this device was conceived as an automobile tablet. Just see – the built-in 24-channel GPS module is equipped with a high-quality aerial and a real support of A-GPS, which ensures PMP7170B3G's cold start-up time similar to the best modern navigators. If you want to transfer the navigation programme's prompts or film sound to your motorcar receiver, you can use the built-in FM transmitter. Sound quality is perfect at the distance of 1 to 2 metres from the aerial. Transmitter activity is displayed by the corresponding icon in the tray, and the sound will be forwarded to the transmitter.
Just don't forget to connect the battery charger because its cable is used as aerial. Vibration call is one more interesting option; it isn't that usual for tablets. Despite the fact that PMP7170B3G is noticeably larger than most smartphones, the vibration felt fairly well in the pocket of my jacket. What should be said about the G-Sensor? Well, it is present, operates accurately, and there are no axes inversions. When connected to a PC through the microUSB output, the tablet is identified as two removable disks; no additional drivers are needed.
Operating System and Additional Applications
The preinstalled firmware was based on Android 4.0.4. On the whole, the operating system interface is practically standard, except the small panel (located at the main screen) for quick switching of Wi-Fi, Bluetooth, GPS, screen autoturning, and brightness control. This is a small, but a very useful addition to Android ICS.
The operating system responds to clicks quickly enough, and there are almost no delays or slowdowns. For a low-end tablet, the OS operation can be considered ideal. The preinstalled applications include the application for reading books Prestigio eReader with the built-in book store, Adobe Flash Player, OfficeSuite Pro 6.1, a high-quality video player MX Player 1.6j, the application controlling the FM transmitter, and Prestigio Installer. The latter allows installing the following additional applications: stock-exchange quotations viewer Blue, Facebook client, Twitter, a solitaire set 250+ Solitaires, Skype, SugarSync cloud storage client with 5 GB of free space, Stock Alert, Barcode Scanner, Currency Converter, as well as games Angry Birds and Chess Free. For the CIS countries, this set also includes Yandex applications and RIA Novosti news informer.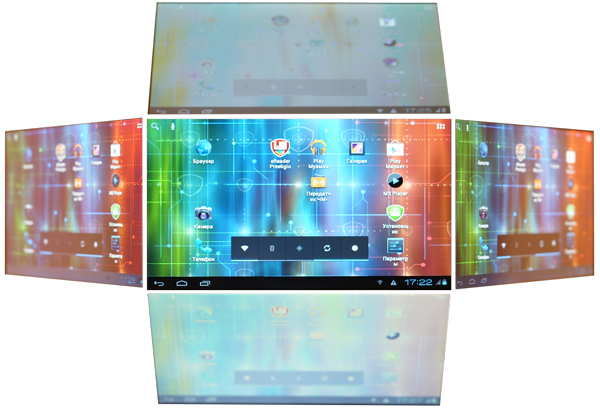 The tablet demonstrated high stability of operation; I didn't manage to discover any system malfunction of the firmware.
Conclusion
So, what is the end result? This is an excellent low-end tablet capable of accurately performing all sorts of tasks. A wide range of wireless interfaces for all occasions, the FM transmitter, GPS, the possibility of using the device as a phone, the high-quality case included in the delivery package – this tablet will be a good assistant in your work, a convenient navigator in your car, it will entertain you during a long trip, and it can replace your discharged mobile phone.
Prestigio MultiPad 7.0 Prime 3G demonstrates vividly that a distinguished manufacturer can combine good specifications and an affordable price in one device. That is how genuinely popular devices are born.