A Perfectly Made Device – A review of Prestigio MultiPad 10.1 Ultimate 3G
04/10/2013
Tablet PCs have firmly entered a modern business person's life. An easy and convenient tool for viewing web-resources, access to e-mail, reading, simple editing of documents, and just entertaining while travelling – a modern tablet can provide all of this. But a work tool should have high quality, be convenient and reliable; otherwise, it couldn't be relied upon. In this review, we will examine a modern 10'' tablet PC Prestigio MultiPad 10.1 Ultimate 3G, assess its advantages and disadvantages, and answer the question of how much this device is suitable as a business person's companion, competing with more widely advertised brands.
Delivery Package
Theatre begins with a coat-hanger, and getting to know a new device begins with its package box. In the case of Prestigio MultiPad 10.1 Ultimate 3G (or PMP7100D3G_DUO, as it is named in the manufacturer's documentation), the box looks more than impressive. The corporate red-and-black appearance and "silver-like" embossed printing that adorn the packaging draw your attention to this device in the shop at once, making it to stand out amid its competitors. Having opened the box, we first discover – apart from the tablet itself – a wonderful folder case inside.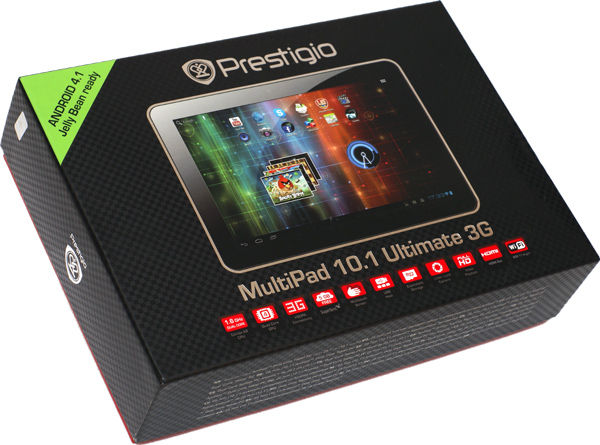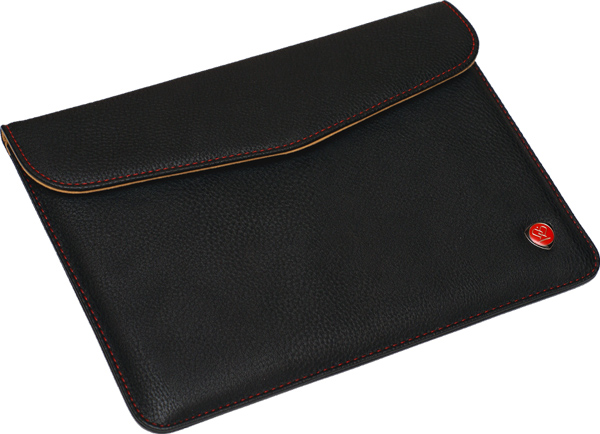 A high-quality firm leather-cloth, carefully stitched with a red thread (in accordance with the corporate style) and adorned with the manufacturer's small logo – that's what the accessories for a business tablet should look like. You won't be ashamed to go to any business meeting with such folder case, and it will protect the tablet well not only from scratches, but from small falls, as well – the case's soft interior finishing will absorb small shocks. Sticker is used as the case lock, which is a simpler and a more convenient solution than magnet locks, but could probably be less durable. The case holds the tablet well even when opened, though there are no real problems when you are taking out the tablet from its "house". On the whole, many manufacturers sell far simpler cases separately for serious money, while this useful accessory is provided "free" with Prestigio PMP7100 DUO.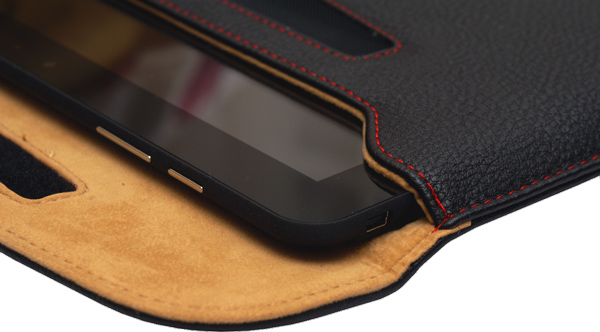 Putting aside the case, let's examine other accessories that can be found in the device box. These include a mains battery charger with two types of plugs (common European and British), a small pin for a convenient SIM slot opening, a common USB-miniUSB cable, and a USB OnTheGo adapter for connection of various USB peripherals to the tablet. A small convenient flexible adapter is an optimum solution for a tablet PC – it won't take much space and will protect the tablet's miniUSB connector from accidental damage when connecting to bulky USB peripherals.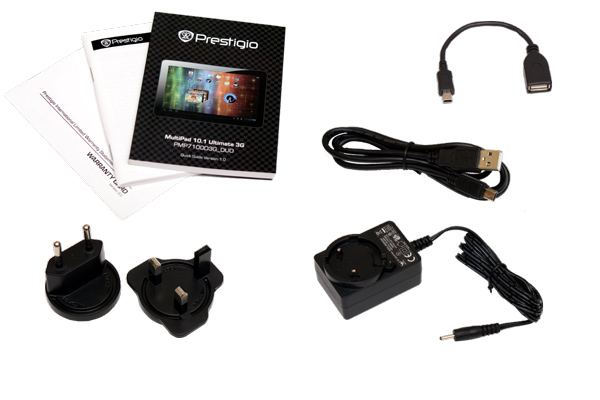 You will also find a fairly detailed guide in Russian and a warranty card at the bottom of the box. The device's delivery package can be considered excellent due to the remarkable case. There is almost nothing to be added to the delivery package, except perhaps those who print extensively might want to buy an external keyboard.
Appearance
Prestigio PMP7100D3G_DUO's body is made of black plastic. The front panel has durable smooth reflective plastic coating. The back cover, forming an integral part with side panels, is made of rugged plastic, smooth to the touch. Owing to this successful decision, the tablet is completely slip-resistant in hands, despite its rather considerable dimensions – 175*257*10.2. Moreover, the device's weight is just 680 grams. You can use this tablet with one hand, though it will be hard to work like this because your hand will be eventually tired. As compared to my older Huawei S7, Prestigio PMP7100D3G_DUO is much more convenient to hold, despite its sizable dimensions.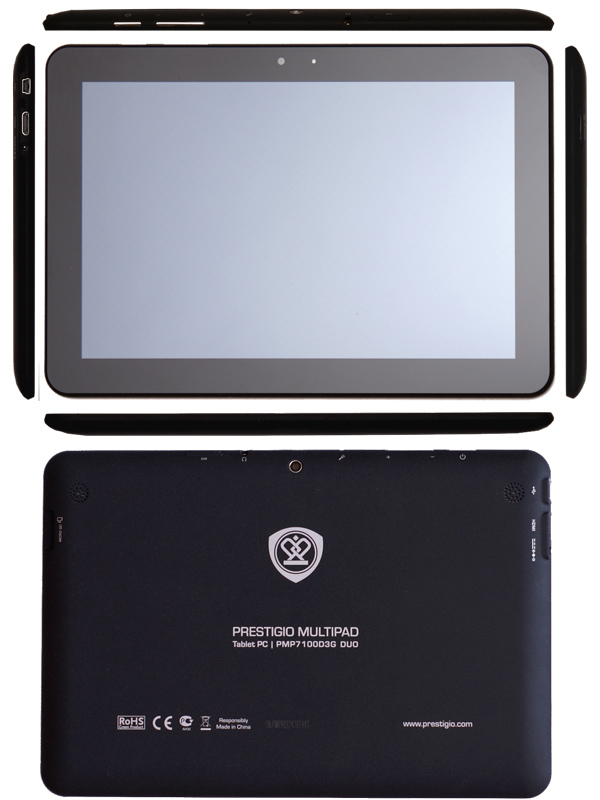 Most of the front panel is occupied by the 10.1'' screen with 1280*800 resolution made according to MVA technology, and supporting multi-touch (pressing several areas of the screen simultaneously). There could be long disputes about what screen technology is better; however, even IPS supporters admit that MVA has a much more natural black colour. There are no problems with the viewing angles, as well – no matter how I turned Prestigio PMP7100D3G_DUO, there were no noticeable colour distortions at different viewing angles. Display brightness is medium, with the possibility of automatic adjustment depending on lighting intensity. The 1280*800 resolution is quite sufficient even for viewing the websites optimised for desktop computer monitors, while larger resolutions for such diagonal are more of marketing than of real need. Even the designer that I know, who is rather demanding when it comes to display quality, noted that Prestigio PMP7100D3G_DUO has a very decent display for a portable device. Having viewed several of his files in Photoshop Touch, he declared that he can visit his clients with such tablet to review the drawings.
The only shortage of the display that I have noticed is that the screen has noticeable flares in the bright sunlight. The top part of the front panel over the screen has a 2 Mpx camera lens and a lighting sensor. On the whole, the front camera's quality is more than enough for Skype calls, and it isn't actually designed for any other purposes. Tablet's left side has a miniHDMI outlet, a miniUSB socket for connection to a PC and for connection of USB peripherals to the tablet, and a small round socket for battery charger.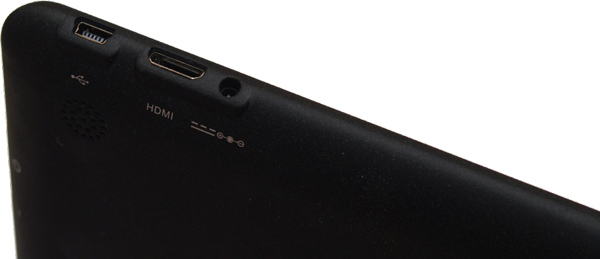 Tablet's right side has a slot for microSD standard memory cards with SDHC support. The tablet had no problems reading 16 and 32 GB memory cards, including those with NTFS file system. Memory card is taken out easily, and is replaced without any difficulties as is the case of some other tablets where you need long nails and certain skills for this. Tablet's bottom side has no functional elements.


The top side has an on/off button, a dual volume control button, a built-in microphone, a 3.5 mm socket for headphones, and a SIM card slot cover. The SIM card slot can only be opened with the help of the included pin or needle – it isn't actually designed for frequent SIM card replacement. However, a potential buyer of this tablet will most likely buy a separate SIM card with one of the numerous tariff plans of mobile Internet, and won't open this slot often. On the other hand, considering the fact that a common SIM card needs to be shortened to be used in some top price range tablets, the problems of opening Prestigio SIM slot seem quite insignificant.


Tablet's rear panel has the grills of two built-in loudspeakers and one more 2 Mpx camera. The image quality is not particularly good, especially in poor lighting; however, only a small percentage of potential buyers will use a 10'' tablet as a picture or video camera – this is simply physically inconvenient, and, indeed, you would look strange.
Please find below test photos from camera.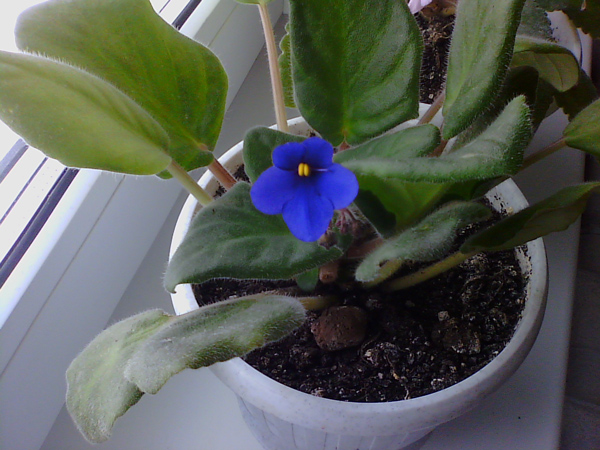 Prestigio PMP7100D3G_DUO has a built-in, lithium polymer battery of 6400 mAh capacity. The tablet worked a bit more than five hours and a half in the films viewing mode (BR-Rip 1280*720 h.264, built-in player) at medium brightness level. Prestigio PMP7100D3G_DUO worked a bit more than 7 hours at average power consumption (reading books and some browsing via Wi-Fi). The results are rather acceptable, considering the tablet's light weight, as well as the display's large diagonal and resolution.
Hardware
Prestigio PMP7100D3G_DUO's brain is Rockchip RK3066 dual core ARM processor with nominal frequency of 1600 MHz (in actual practice – 1512 MHz). Together with 1024 Mb RAM, the resulting combination is rather productive; it may be inferior to, say, Samsung's flagship models, but surpasses significantly single core solutions that are utilised in the majority of inexpensive tablet PCs. Benchmark results on the last 1.1.1 firmware are self-illustrative: this is a quite modern tablet with a good if not an outstanding performance. Prestigio PMP7100 DUO has more than enough processing power for a fast work of the operating system and applications, and owing to Mali 400 graphic accelerator – that has proven its quality as far back as since Samsung Galaxy II – even heavy BD rips are reproduced without frame dropouts.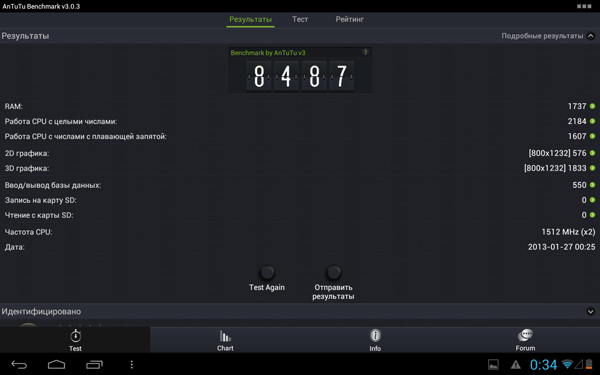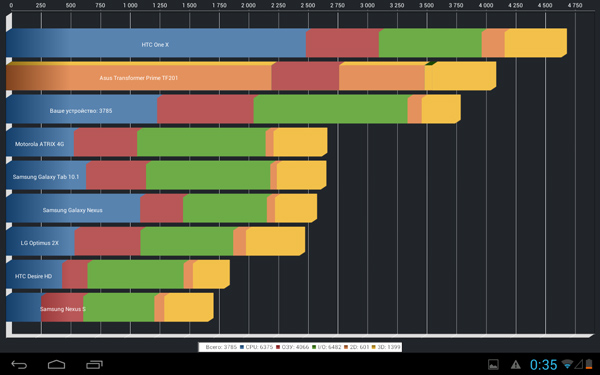 Gaming performance is also high – Asphalt 7 works almost perfectly, let alone simpler games. And if we mention games, it should be noted that G-sensor operates faultlessly both in the operating system and in various racing games. The only nuance is that there might be a need to switch on G-sensor's axes inversion in certain applications developed for Android smartphones with vertical screen orientation.
The audio system is fairly good. Owing to two, though small loudspeakers, it is rather pleasant to watch films on Prestigio PMP7100 DUO without headphones. Headphones sound quality level is medium, which is more than enough for a tablet PC. Built-in wireless interfaces are represented by Wi-Fi, Bluetooth, and 3G. Bluetooth operates fairly reliably; files are transferred without faults or interruptions within 12 m distance via my favorite application Bluetooth File Transfer. The Wi-Fi module is also very good – Prestigio PMP7100 DUO showed excellent results as for the range of communication with access point, especially as compared to my own Huawei S7 and Asus 1215 laptop. Even the 52 m distance and two bearing walls didn't hinder web browsing via Wi-Fi.
The 3G module built on the basis of the internal modem supports GPRS, EDGE, and HSDPA data transfer standards. I would assess the module's sensitivity as above average; on the whole, it is similar to the majority of modern 3G modems. It should be noted that the 3G module cannot be used for calls and SMS transfer – no such telephone functions have been included in the firmware. On the other hand, it wouldn't be very convenient to perform common telephone calls from such big device – therefore, the absence of telephone applications is not a serious disadvantage. There is also a lighter version of this tablet without a 3G module costing significantly cheaper. If you plan to use your tablet exclusively near access points, or if your mobile phone can be used as a Wi-Fi point, look for Prestigio MultiPad 10.1 Ultimate (PMP7100D_DUO).
Having found my HDMI-miniHDMI cable, I connected Prestigio PMP7100D3G_DUO to LG 42LH5000 TV-set. Some seconds later, the tablet's desktop could be seen on the large TV screen. You can, for example, use a TV-set to show on it the text of some document or presentation controlling your report by means of the touch screen. PMP7100 DUO will also complement a large-screen TV well as a multimedia player since built-in players even of modern "intelligent" TVs aren't always able to play Full HD films.
Continuing the topic of using Prestigio PMP7100D3G_DUO for various reports and presentations, we shouldn't forget about the USB host. If you switch on a small wireless keyboard with a USB receiver (Logitech K400 in my case), you will be able to control the presentation without even touching the tablet. And if you need to transfer the materials shown to your colleagues, you will be able to easily connect any USB flash drive (I have tried several different flash drives by different manufacturers) or card reader to the tablet. There is no need to install any additional software – everything is identified automatically. Problems could arise only when using certain external hard drives: to connect those, you should have an active USB hub.
When connected to a PC, as any Android tablet, Prestigio PMP7100D3G_DUO can be identified as a removable disk, and in a special ADB mode (mainly used by developers). PMP7100 can't be charged via a USB port: apparently, USB port's current isn't high enough to charge a 10'' tablet normally, and therefore, the manufacturer decided not to bother about this type of charging.
Software
Prestigio PMP7100D3G_DUO operates under Android 4.0.4. However, a proud stripe on the box states that the tablet is ready for installation of Android 4.1. And, indeed, the manufacturer's website offers firmware 1.1.1, based on this operating system. I performed all the tests on the last official firmware.
The tablet uses the standard Android 4.x interface; the manufacturer didn't intend to invent any new shell for this tablet. However, there are two sets of supplementary applications – one set is originally built in the firmware, while the second can be installed by means of the proprietary Prestigio Installer that includes Internal Memory/System/APK applications. The first group includes a slightly modified file manager Explorer (simple and beautiful solution for working with files, capable of working with USB flash drives), the proprietary book reader Prestigio eReader, Adobe Flash Player 11, and Office Suite Pro 6.1 Prestigio eReader made a very good impression by its beautiful interface in the form of the bookshelf, stylish animation, and built-in store offering numerous paid and free works in 22 languages, perfectly adapted for reading in a mobile device.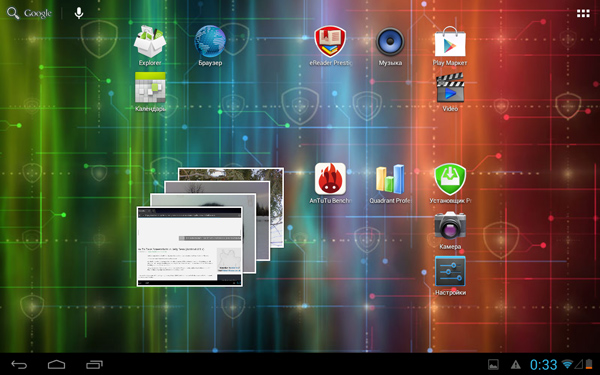 Office Suite is considered to be one of the best office suites for Android; the good news is that you won't have to buy it separately – a business person can't do without a good office suite in the tablet. Office Suite understands DOC, DOCX, TXT, XLS, XLSX, CSV, PPT, PPTX, PPS, PPSX, and PDF formats, and allows both opening and editing them (except PDF). EML support is provided for those who like Outlook. True, there are only basic editing capabilities, but in terms of viewing this office suite can please the user even by displaying formulas and diagrams in Microsoft Office documents. Office Suite also has the built-in system of dictionaries.
Optionally installed applications include a solitaire set 250+ Solitaries, the immortal game AngryBirds, a chess game ChessFree, a racing game Raging Thunder, Skype, Twitter, FaceBook, YouTube, Yandex application set (mail, maps, market), Instagram photo service, RIA Novosti news informer, a programme for storing files in the cloud storage SygarSync, a currency converter, a currency informer Stock Alert, and Prestigio's proprietary application for working with stock-exchange quotations Blue 303.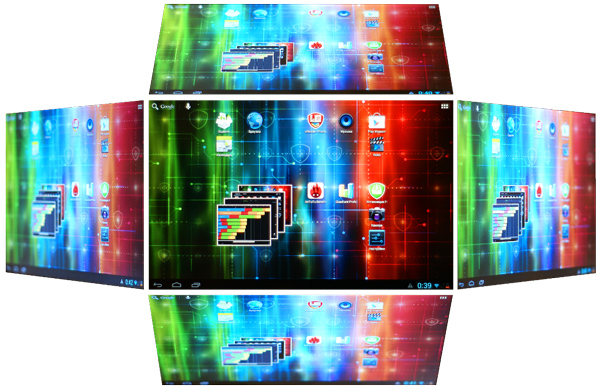 Prestigio PMP7100D3G_DUO pleases the user with a stable and quick operation; over few days of intense testing, I didn't manage to find any application that could hang the tablet.
Conclusion
Prestigio MultiPad 10.1 Ultimate 3G (PMP7100D3G_DUO) is a perfect example of a medium price range tablet PC. A good delivery package, high quality of assembly, a solid screen with excellent viewing angles, and a decent performance – these are the key advantages of this device. As for the disadvantages, I would mention the inconvenient design of the SIM card slot and the absence of telephone function (in my opinion, SMS and USSD functions should have been included).
On the other hand, the said disadvantages won't ever prevent PMP7100D3G_DUO from becoming a true assistant of a business person. This tablet is suitable for working with documents (including graphical ones, if no heavy editing is intended), presentations, and corporate mail. And the tablet's quick graphics system won't let you be bored while travelling, entertaining the user with films in HD quality and various 3D games. Moreover, the honest 24 months warranty is the best confirmation of the tablet's reliability – not many manufacturers are that sure of their creations.