An Extraordinary Book – A review of Prestigio MultiReader 5274
05/20/2013
Probably, each of us wanted to have an extraordinary book in childhood – a book that could show live illustrations of interesting phenomena, explain unclear places, and tell the things that you liked best. Such books become a reality in our times of high technology – these are the devices for reading e-books, built on the Android platform. From this review, you will be able to learn about the state-of-the-art Android reader by the famous brand Prestigio – MultiReader 5274.
Packaging and Delivery Set
The e-book reader, or as it is now fashionable to say the 'eReader', comes in a neat little black box with red sidewalls. Remembering a book is often judged by its cover, the manufacturer has decorated the device box with beautiful embossed silvery inscriptions and with the catchy sign of Android 4.1, so that the buyer had no doubt that he/she is dealing with a smart e-book reader rather than a simple text reader. Unlike many other products by Prestigio®, the box of MultiReader 5274 opens in the manner of a chest instead of removing the cover.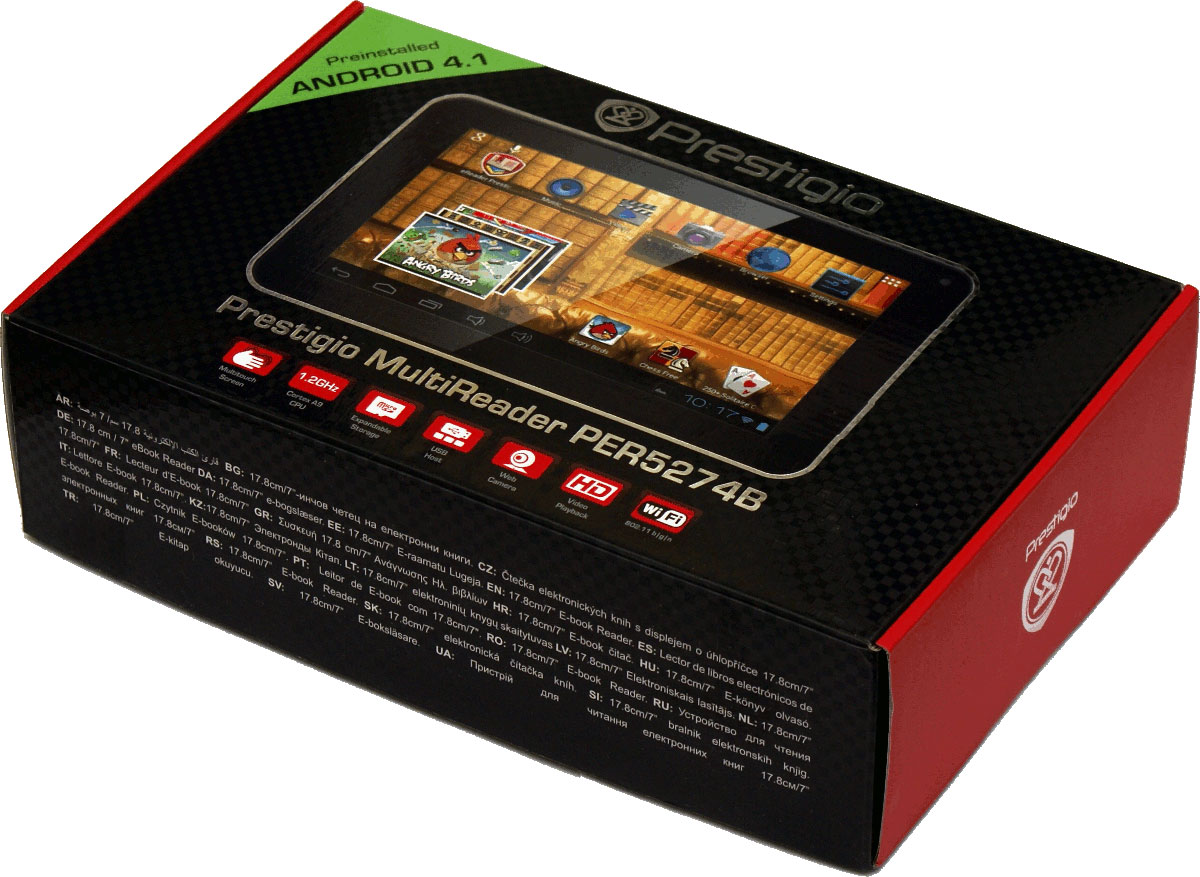 Apart from MultiReader 5274 itself, the box includes only the 220 V battery charger with the European plug, brief instructions in several languages, including Russian, and a USB-microUSB cable for connecting to a PC. The delivery set is rather modest, and the owner will most likely want to purchase a case and an OTG adapter, if there is a need to connect peripherals. On the other hand, such modest set allows minimizing the cost of the device for the end user.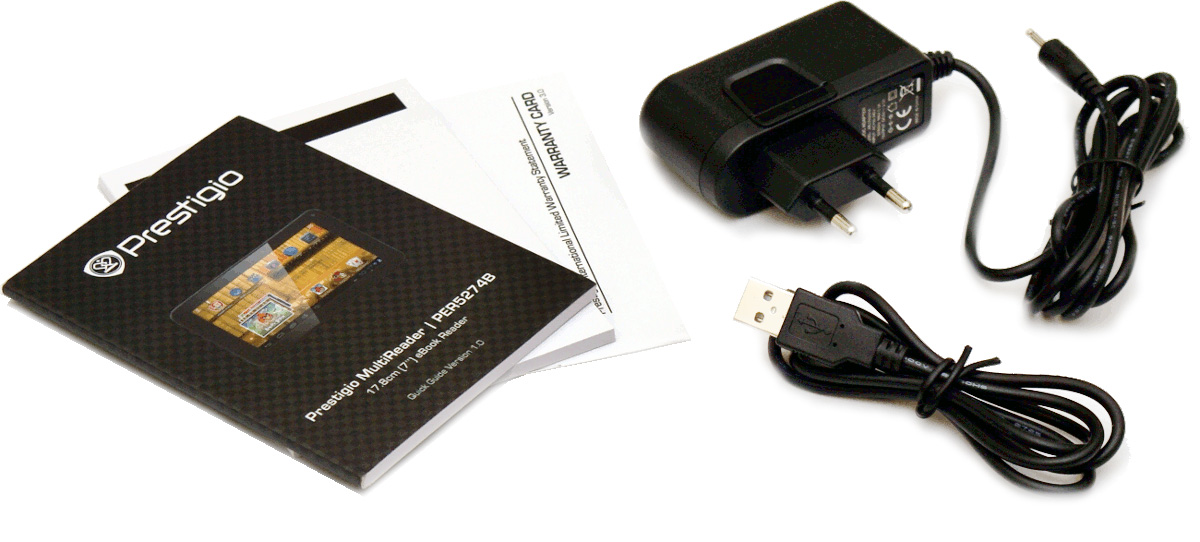 Appearance
The e-book reader's housing is made of black rubberized (Soft Touch) plastic. Despite the fact that this device is a low-cost one, there can be no objections against the plastic's quality – MultiReader 5274 is nice and comfortable to hold. The small size of 116*192*11 mm with the weight of 320 grams allow putting the device in your pocket easily. Thanks to the rather broad trimming of the display, the eReader is easy to hold with one hand, without closing the screen.
Most of the front panel is occupied by the 7'' TFT screen with 840*480 resolution. In my opinion, this is an optimum diagonal for the display of an e-book, if you're going to read fairly large amounts of text somewhere on the road. The screen has fairly good vertical viewing angles, but with a big horizontal tilt you can notice some colour distortion. The display has good brightness capacity – the brightness comfortable for me was about 2/3 of the maximum. The only thing that's a bit annoying is the display's reflective finish, designed to protect it from scratches.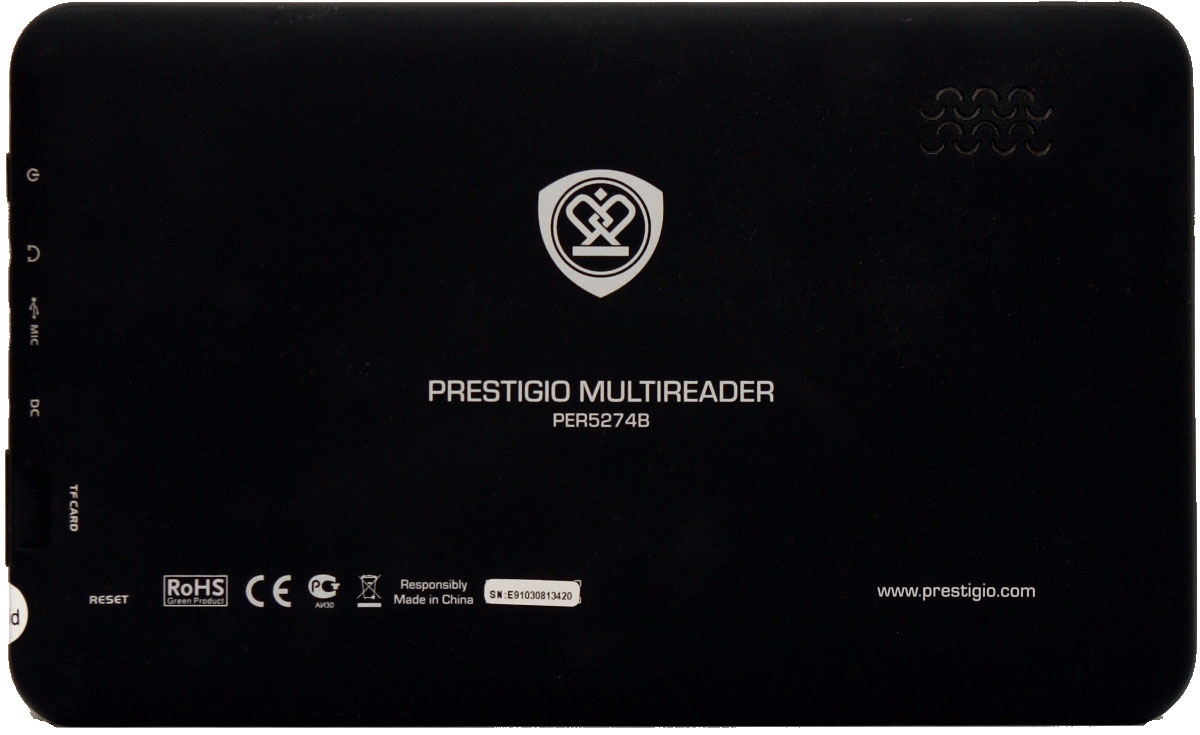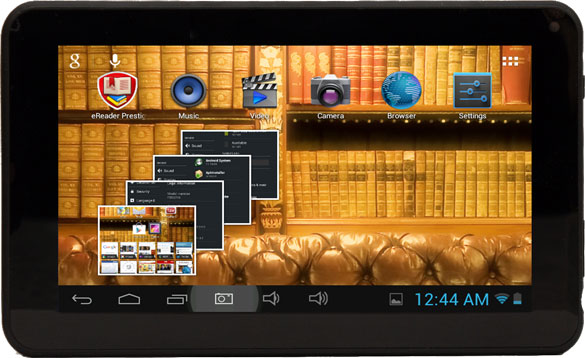 A simple 0.3 megapixels camera is located in the top left corner of the front panel. If you want to make a Skype call using your e-book reader, this camera will allow the person you are talking to seeing your face. And, unlike many other Android-based eReaders, MultiReader 5274 is really capable of comfortably working with Skype with no slowdowns. Surely, such use of the e-book reader is a little bit unusual, but Skype client on your MultiReader can do a good service during long trips.
All functional elements are concentrated on the e-book reader's upper side; there are no buttons or connectors on the bottom side or side edges. The top side includes the device ON/OFF button, a 3.5 mm headphone jack, a round thin charger slot, a microUSB connector for connection to a PC, a microphone, and a double volume key. The keys are pressed clearly, with a characteristic click.
The back panel includes a card slot, a reset button, and the grill of the only loudspeaker. The loudspeaker is surprisingly loud, and is able to shout down many other electronic gadgets. The memory card slot has a very peculiar design, but the card is pulled out surprisingly easy. SDHC memory cards are supported, which allows filling the e-book reader with various media materials before you go, and watching them comfortably afterwards.
MultiReader 5274 has a non-removable Li-Ion battery. Battery's capacity is 2,800 mAh, and the autonomous operation time is as long as 5 hours at normal illumination level and with Wi-Fi turned off – this is a very good result for a device with a colour display and a powerful hardware for an e-book reader. In fact, if the illumination is reduced to a minimum, MultiReader 5274 can operate for almost 6 hours.
Hardware Filling
The brain of MultiReader 5274 is Rockchip 2926 processor with a maximum frequency of 1.2 GHz. In fact, the processor rarely operates at such frequency, except, maybe, when playing video files. When reading, the processor's frequency is holding at 216 MHz, which explains good autonomous operation time. RAM's capacity is 512 MB – basically, this is more than enough for an e-book reader. The pleasing fact is that the manufacturer installed a sufficiently powerful Mali 400MP graphics accelerator, which allows MultiReader 5274 to deal with almost any video file, including Full HD. But this device cannot run heavy games; however, of all the diversity of Android games, you can choose many interesting entertainment programmes that will feel all right in MultiReader 5274. A book with interesting games, that also shows films – there was a time when you could only dream of such magical device, and now those dreams are embodied in such simple and affordable e-book readers by Prestigio®.
The volume of internal memory is 4 GB of which 1.82 GB are available for the user, and 1 GB is used for programmes. Of the built-in wireless communication interfaces, MultiReader 5274 has Wi-Fi supporting the modern 802.11n standard. I would describe the Wi-Fi module's sensitivity as average.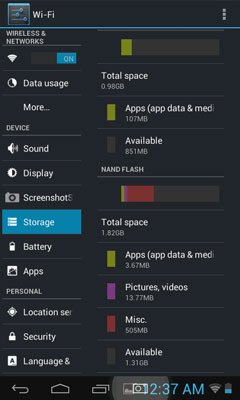 If you need to connect any peripherals to your e-book reader, then you should buy an OTG adapter for $5-7, and you'll be able to use USB flash drives, keyboards, and even 3G modems. All this can significantly extend the scope of the e-book reader's application.
There is a built-in G-sensor – it can be used in games and for automatic rotation of the screen. In general, if we consider MultiReader 5274 in terms of e-book readers, the hardware filling is more than decent.
OS and Firmware
The device is functioning on Android 4.1 operating system. The operating system's shell is standard – you don't have to unlock or change anything if you want to install any additional software in MultiReader 5274. This is a distinct advantage of MultiReader 5274 in contrast to, say, Nook Touch or Kindle Fire, where different cunning manipulations are required to access Android.
There are two preinstalled programmes for reading – e-book store and reader "eReader Prestigio", traditionally used in Prestigio® devices, and "EBook". Both of them are quite comfortable and beautiful, and can read TXT, DOC, and PDF formats. If you need fb2, with a few clicks you can install CoolReader from Google Play Store or from an apk file using the built-in ApkInstaller utility.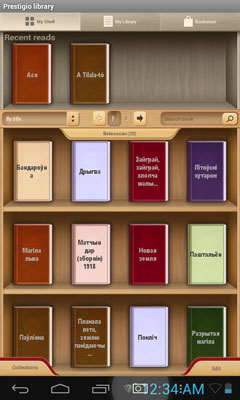 The capabilities of working with documents are extended by the preinstalled Office Suite 6.5 that allows you to open XLS and PPT documents, as well.
Using Prestigio Installer, you can also install Adobe Flash Player, a collection of card games 250+ Solitaires, an arcade game Angry Birds, Chess Free, Skype, Twitter and Facebook clients, Translate, YouTube, a set of programs by Yandex (only in the delivery for the Russian market), FreeNote, a program for storing files in a cloud storage SygarSync, currency converter, Stock Alert currency informer, and the utility for working with stock quotes Blue.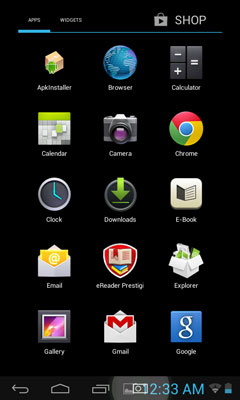 The device's speed is fairly good for e-book reader, and no hangs were noticed.
Conclusion
Prestigio MultiReader 5274 is a truly extraordinary e-book reader. In addition to its direct functions of reading, it copes perfectly with telephony via Skype, allows you to comfortably watch films on the road, and has a high performance for this class of devices. Moreover, you are perfectly free to install on it any Android apps that you may need – the functionality isn't limited by any special shells as are competitors' e-book readers. Also, let's not forget about the decent autonomous operation time for a device with a colour TFT display. Given the fairly low price, MultiReader 5274 will be a great present both for you and for your friends, and will give you many happy moments with your favourite books, films, and music. And this e-book reader is quite suitable as the first device of this class for your children – let them have a magical book of which each of us was surely dreaming as a child. After all, good assembly quality of MultiReader 5274 will allow it operating even in children's hands for a long time.