Budget-oriented and Elegant: Prestigio MultiPad 7.0 HD
08/02/2013
The majority of entry-level tablet PCs have modest specifications and a rather dull design. Is it possible to create an externally and internally interesting tablet, while maintaining its cost at the level of the simplest models of competitors? Prestigio MultiPad 7.0 HD is a successful attempt to create such device intended to break the stereotype of "slow and ugly" and to set new standards for budget-oriented tablets in 2013.
Package and Delivery Set
Prestigio MultiPad 7.0 HD comes in a neat little cardboard box decorated in the black and red colour scheme. The package style – similar for the majority of modern Prestigio products – gives an immediate visual advantage to MultiPad 7.0 HD over other competitors of the same price range. Packages of budget-oriented tablets rarely pamper the buyers with such design refinements as relief printing or silvery writings.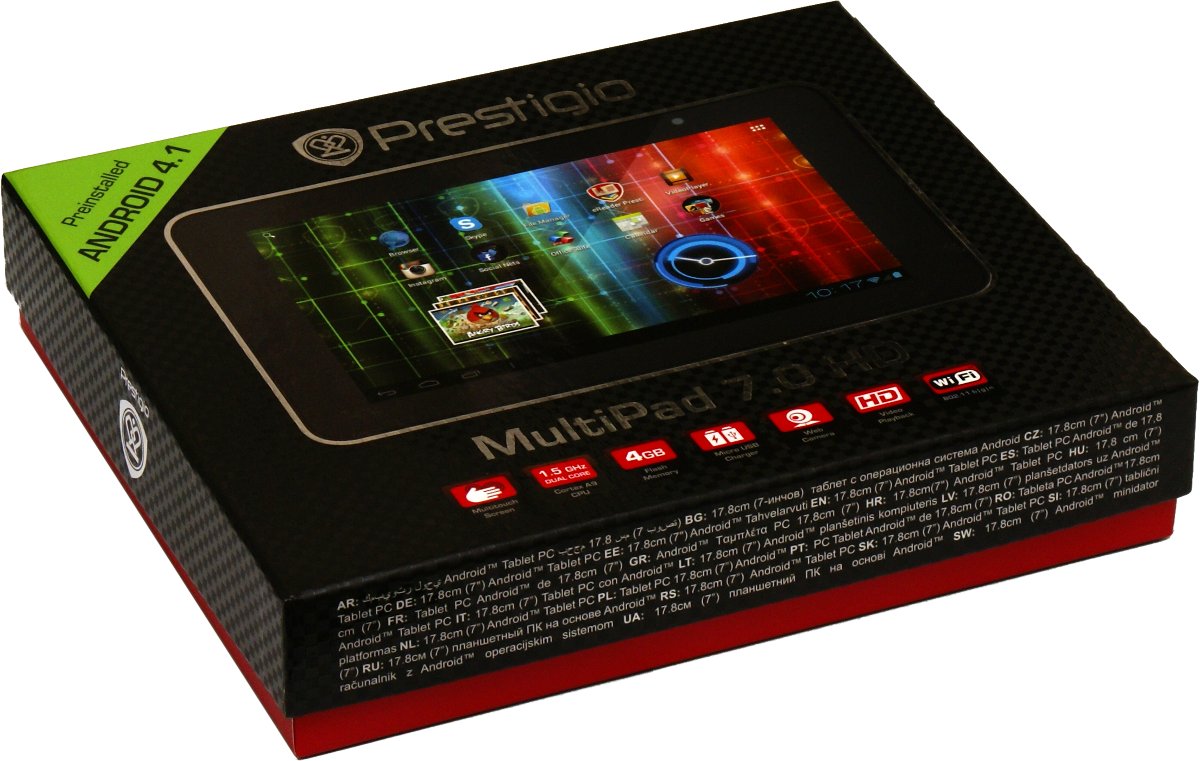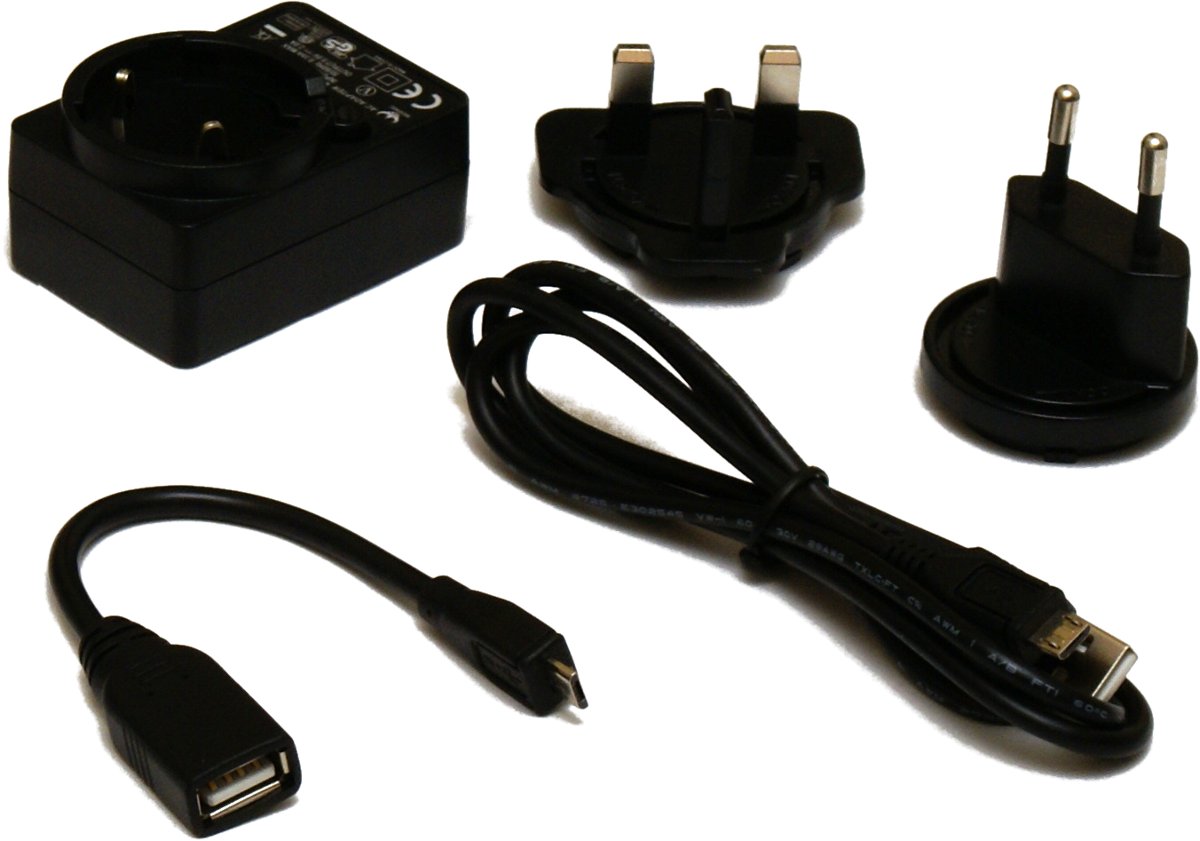 Having opened the box, we find inside the tablet itself, a 220V charger with plugs for European and British sockets, a USB-microUSB sync cable, a USB-OTG adapter, and a user manual with warranty card.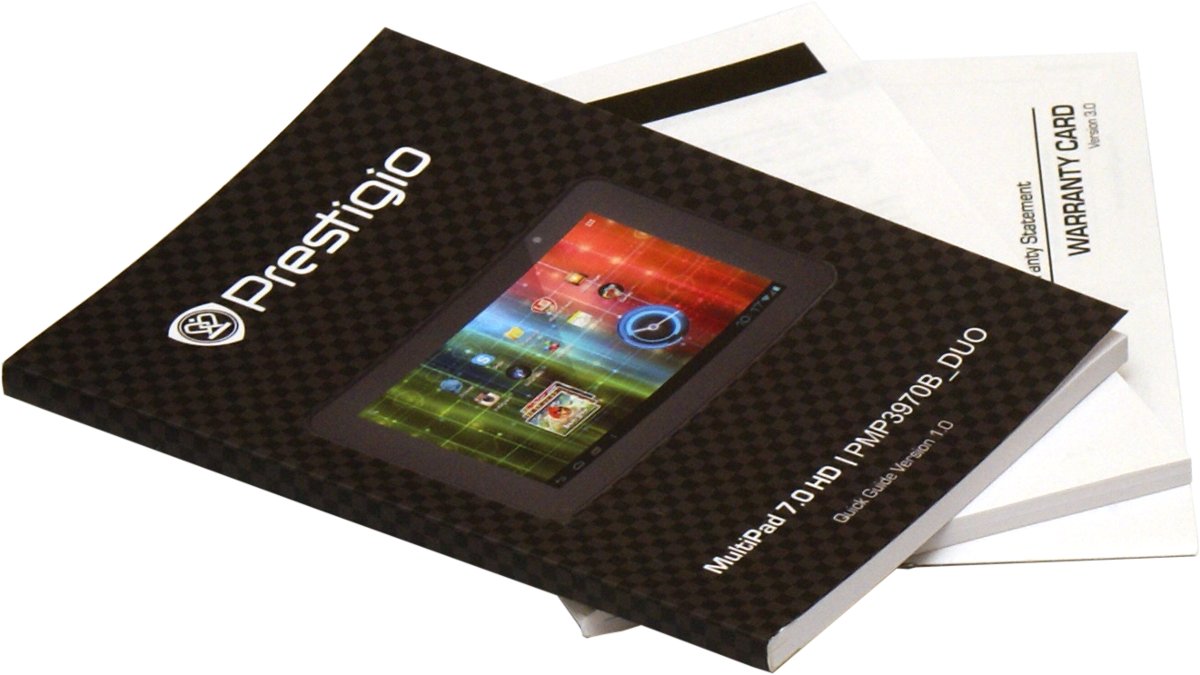 The charger has a USB interface, which allows using it to charge many other gadgets – a nice feature for a practical buyer. The OTG adapter for connection of peripherals is also useful; the manufacturer didn't try to save money on this pleasant trifle.
Appearance
When you take MultiPad 7.0 HD in your hand for the first time, you'll find the body material pleasant.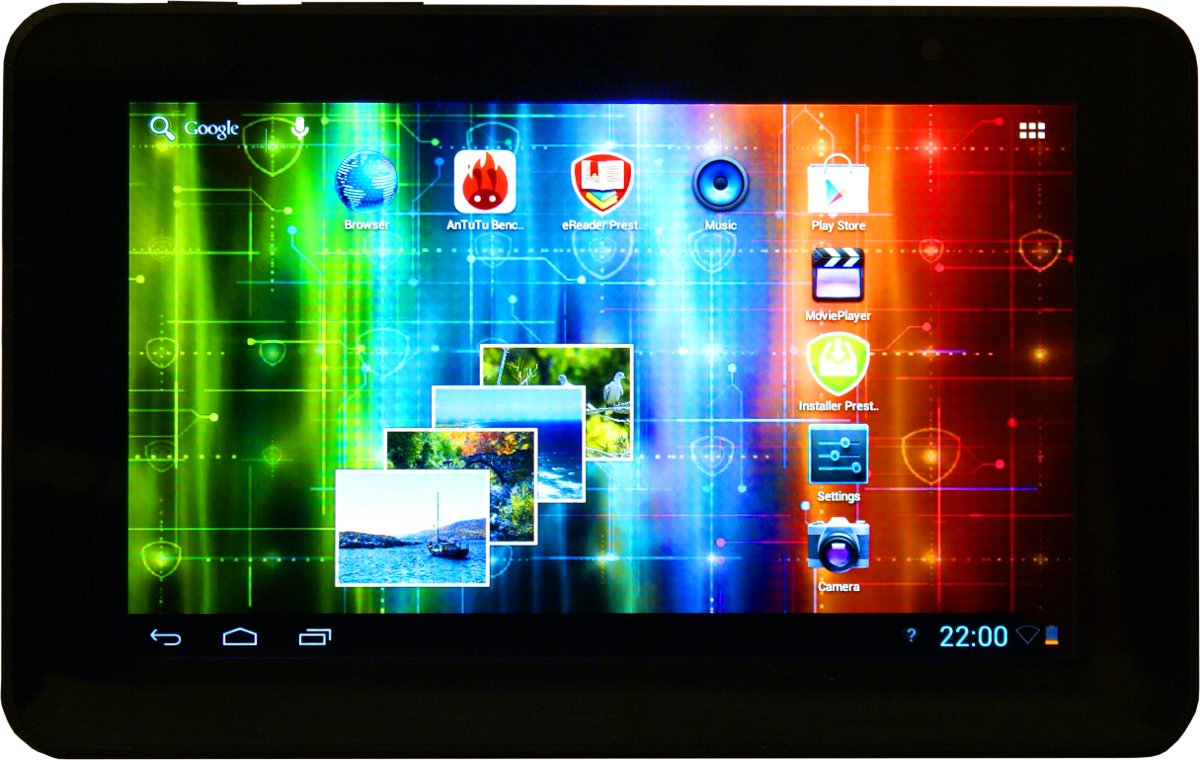 The rear panel and the sides are made of rough dark grey plastic. It feels like velvet paper to the touch – the body is comfortable to hold, and the likelihood of slipping out of the hands is small. The front panel is made of common black plastic, with a reflective panel over it protecting the screen. Smooth lines prevail in the body design, with no sharp corners.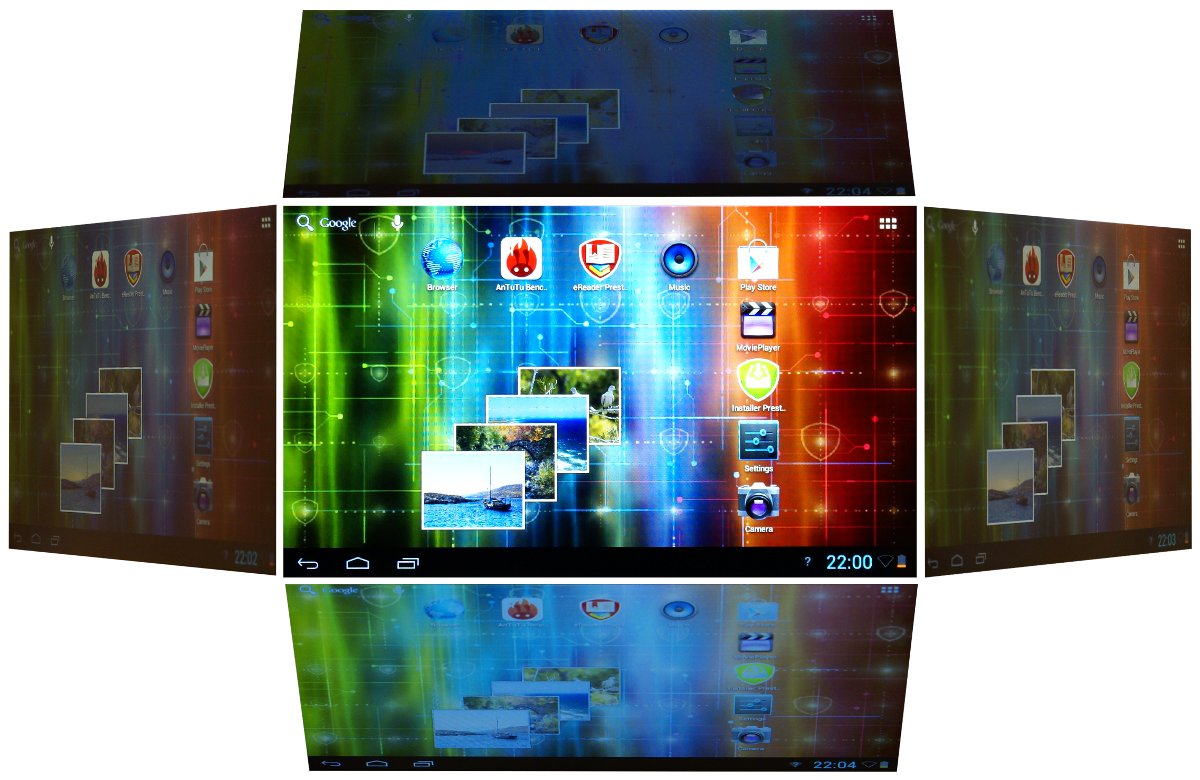 The tablet has an LCD matrix with a 1024*600 pixels resolution. Good horizontal and vertical viewing angles, standard brightness capacity – looking at the screen, it's hard to believe this is a budget-oriented tablet. Surely, the multi-point multi-touch is supported.
MultiPad 7.0 HD has fairly modest dimensions and weight: 195*122*11 mm, and weight of only 360 grams. You can easily hold this tablet in one hand, and read books for a few hours with no particular effort. The build quality is of a good level – the tablet doesn't creak even when compressed strongly, while the buttons aren't loose and have good reaction.

The top right part of the front panel has the lens of the only built-in 0.3 megapixels camera. This camera will allow you to hold Skype conferences, but is of little use for photo shooting.

Tablet's top side is equipped with the on/off switch and the volume rocker.Tablet's bottom side has no functional elements.

The left side of the device has only a 3.5 mm jack for headphones, while the right side has a microSD memory card slot (just an aperture without any cap) and a microUSB connector used for charging, synchronisation with a PC, as well as for connecting USB peripherals and a miniHDMI. In my personal opinion, the possibility of charging via USB is a significant advantage for any portable device. The memory card slot supports the SDHC standard and SDHC memory cards of up to 32 GB.

The miniHDMI connector can be used to display information on a TV set or monitor, with no additional settings needed to output the information to the connected display.
In the bottom left corner of back panel, there is a group of apertures behind which the speaker is hidden. The speaker, despite its small size, is rather loud. The battery is of the built-in type, with no possibility of replacement by the user. The capacity of this lithium-ion battery is 4,000mAh. Thanks to small display size and an energy efficient processor, MultiPad 7.0 HD is able to work for 5.5 hours in the video playback mode, which is a perfect result for a budget-oriented tablet PC. The device worked for 7.5 hours in the reading mode with the medium illumination level, which is a very good result, as well. In general, MultiPad 7.0 HD showed high battery capacity.

Hardware
Prestigio MultiPad 7.0 HD has a dual-core AML8726-MXS processor with 1.5 GHz clock frequency. The amount of RAM is 1 GB, and the graphics accelerator used is the dual-core Mali 400MP. As a result, the tablet has good performance for its price category and, as was mentioned above, high battery capacity.
See the tests here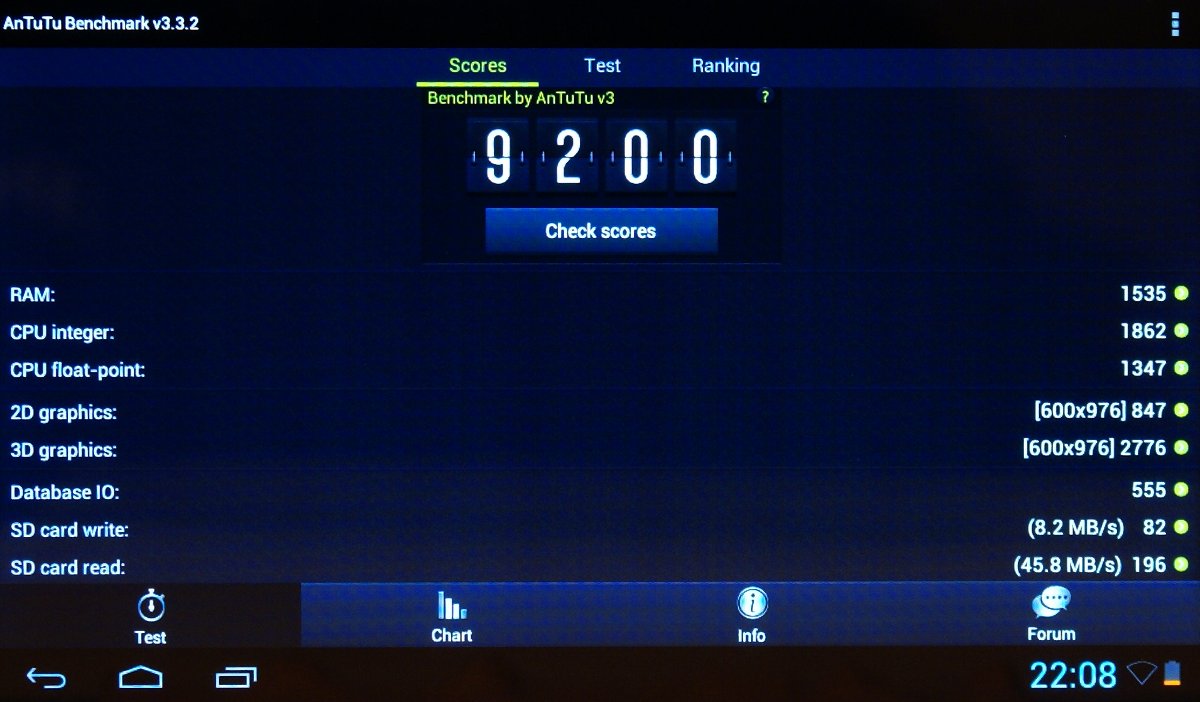 Without getting into pallid statistics, I can say that Prestigio MultiPad 7.0 HD copes perfectly both with HD-video playback and with the majority of 3D games.
There is a built-in Wi-Fi module supporting IEEE 802.11b/g/n standards. My weekend of active Internet surfing via Wi-Fi showed good stability and range of the built-in module – the tablet ensured good connection even through two main walls from the access point.
If, however, you would like to expand the tablet's communication capabilities, it's enough to connect a USB 3G modem to MultiPad 7.0 HD via the OTG adapter. After that, you will be able to remain online wherever you need it. You can also connect external USB flash drives, keyboards, and joysticks via the OTG adapter. If, for example, you have a flash drive with an important document that you need to review urgently, the possibility to transfer the information directly from the flash drive to the tablet will be very useful.
As most Android tablets, MultiPad 7.0 HD has the 3D accelerometer sensor (G-sensor). The amount of internal space is 4 GB.
When connected to a PC via USB, there are two modes available – the standard removable storage device mode and the debugging ADB mode for developers and advanced users.
Software
MultiPad 7.0 HD is operating under Android 4.1.1 operating system. The standard Android 4.x desktop is used, which, in my opinion, is an advantage – if necessary, you can install an alternative launcher of your preference without any problems.
As with other Prestigio tablets, MultiPad 7.0 HD has two groups of applications – the first group includes firmware apps, while the second group includes the set of apps for internal memory that are installed via the proprietary utility Prestigio Installer.
The firmware includes: Flash Player, FileBrowser file manager, the proprietary app for reading books with an integrated store and library Prestigio eReader, and the great OfficeSuite Pro 7.0.1. Prestigio Installer allows installing: Racing Thunder game, the app for storing files in the cloud storage SygarSync (free 5 GB of virtual cloud disk), a currency converter, Stock Alert currency informer, Prestigio's proprietary app for working with stock quotes Blue, etc.
Tablet's stable operation has left good impression – there wasn't a single hang in 3 days of active use, even with many applications running in the background.
Conclusion
Prestigio MultiPad 7.0 HD is a perfect tablet that has been changing the idea of low-cost devices of this class. This tablet's major advantages are nice design and body materials, good display, powerful enough processor, high battery capacity, and the possibility to connect an external modem.