Bright impression: the Prestigio MultiPad Color 8.0 3G review
09/18/2014
Most modern tablets have plain design and traditional coloring: black or white. It's rather hard for a prospect customer to find a modern productive tablet that would have a bright look. Having its bright body and powerful hardware, the Prestigio MultiPad Color 8.0 3G will seem really attractive for the more style concerned consumers that don`t like dull black and white bodies of portable devices.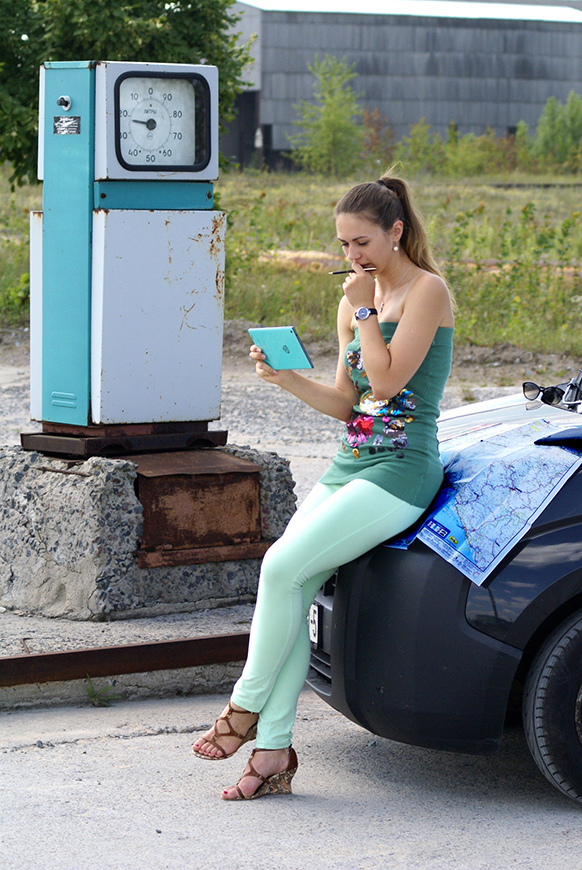 Package
As all the other Prestigio smart devices, the MultiPad Color 8.0 3G comes in an elegant carton box styled in Prestigio`s traditional red and black colors with silver lettering. The difference is that on the top of the package you can see several variants of the tablet`s back panel color: black, blue, violet, red, mint and white.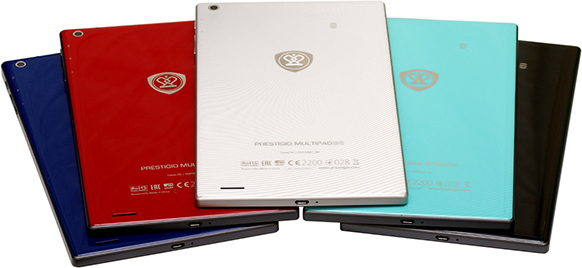 Besides the MultiPad Color 8.0 3G itself, in the box you can find a 220 V charging device with a USB-plug, a leather case, a USB – microUSB cable for charging and syncing, an EU plug for the charging device, a USB – OTG cable for connecting peripherals, a user guide in several languages, and a warranty card.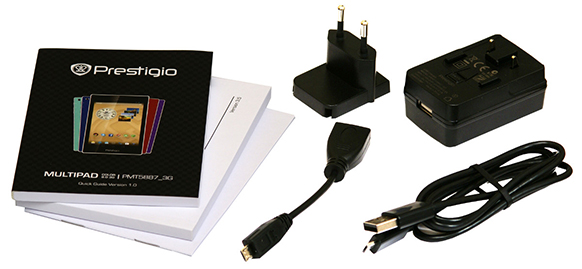 The flat charging device with a detachable plug easily fits even in a small purse, which will definitely be appreciated by ladies. To include leatherette covers into the package of their tablets has already become a good tradition for Prestigio, and the MultiPad Color 8.0 3G is no exception. The hard leather case tightly fits the device, minimizing the probability of it falling out. The case comes black for all the color variants of the tablet, except for the white one, which has a matching white cover. Soft velvety lining securely protects the gadget from all the troubles and also cleans the screen quite well.

An OTG cable is a nice supplement to the package as it enables you to connect various USB devices to the tablet.
It would also be nice to get at least one NFC tag in the package, because NFC support is one of the definite competitive advantages of the MultiPad Color 8.0 3G. But surely it`s not a big problem to buy a set of Prestigio NFC tags separately.
All in all, the package contents leave quite a positive impression – there`s everything a prospective tablet owner might need.
Look and feel
The body of the MultiPad Color 8.0 3G is made of quality solid plastic. The front panel is black for all the color variants (except for the white model), the side edges are grey, and the back panel color, as already has been said, can be black, blue, violet, red or mint. Thanks to such a variety of colors, this tablet will suit almost any image – it`s appropriate for serious businesspeople, cheerful youth, fashionistas. Anyone can find a color option to match their style. With the MultiPad Color 8.0 3G you don`t need to buy colored sleeves to highlight your individuality – the gadget itself stands out against its analogues and makes a strong impression. The tablet has come out bright and ingenious, with its own flavor in style.
The tablet`s back panel has a special IML-texture meant to protect the plastic from scratches and save the presentable look of the device as long as possible.




Among the certain advantages of the device is its modest size. The dimensions of the tablet are 217*126*9.5 mm, with just 345 grams of weight. Light and slim, the MultiPad Color 8.0 3G won`t feel like a burden even for a fragile lady and will always be at hand. The high-quality IPS display with the resolution of 1280x800 pixels and multipoint multitouch support takes up the most part of the front panel. Gloss display finish is very nice to touch. The image quality is very high, all the colors, including black, look natural, with no distortion at different viewing angles. There`s an automatic brightness adjustment as well.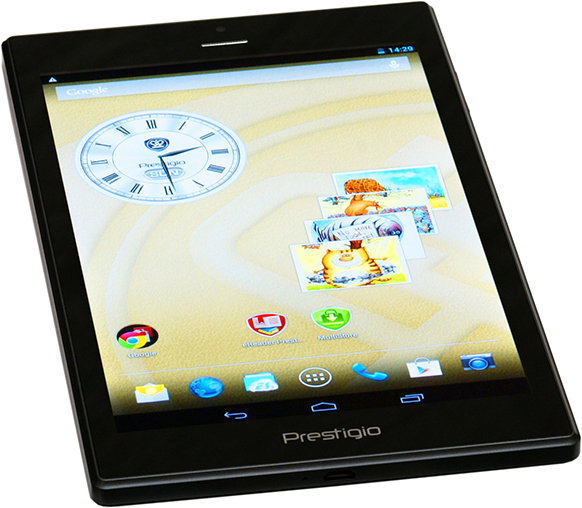 Besides the display, on the front panel of the tablet there`s a Prestigio logo, a front speaker covered with a silvery mesh and a front web camera of 0.3 MP, which works quite well for video calls in different communication apps. The right edge of the tablet has no functional elements. On the left edge there is a double volume control button and a switch on/off button. The top edge has a 3.5 mm mini jack and two slots for a SIM card and a microSD card, both covered with a single neat cap.

It`s good news the Prestigio engineers haven`t followed the trend of using micro or nano SIM card slots, so the tablet is ready to work with normal size SIM cards. The official specification of the MultiPad Color 8.0 3G says the tablet supports microSDHC/microSDXC cards of only up to 32 GB, but in practice the tablet has proved to work well with 64 GB memory cards as well. The bottom edge of the device has a microphone and a microUSB port which can be used for charging, PC synching and connecting USB peripherals to the tablet.
On the back panel there is a 2.0 MP camera, an NFC sensor and another speaker. The photo quality is rather high for such a resolution – quite enough for capturing something memorable. The max speaker volume is not very high, but enough for watching films in less noisy rooms. NFC sensors have yet recently been built-in only in very expensive premium portable devices, and as for now, their availability on mid-price-level devices is just establishing itself. So it makes sense to pay attention to the possible use cases of this technology.
Contactless payments, which were the main reason for the NFC technology development, are still not available in every given country. But anyway, you can program your own NFC tags – it`s very convenient. Place programmed tags in different places you usually visit, and you`ll make your work with the tablet significantly easier and save much time. For example, at home and in the office you can place the tags programmed to switch the wi-fi on/off. Then you can just touch such a tag with your tablet – and the programmed action will be performed automatically. This functionality opens up the widest possibilities for automation of a portable device operation: you can change sound profiles, adjust the brightness of the backlight, start programs and perform particular actions in them. Also there`re a number of games using NFC for data sharing. The quantity of apps supporting NFC is growing with every day, so it`s a real benefit of the MultiPad Color 8.0 3G to support this technology.
The MultiPad Color 8.0 3G has a built-in Lithium-Polymer 4400 mAh battery. The tablet has proved to be able to play video for almost 6 hours on one battery charge. The web surfing over 3G time has proved to be 5.5 hours. That said, despite being slim and light, the MultiPad Color 8.0 3G provides you with a great supply of autonomy.
Hardware
The MultiPad Color 8.0 3G boasts a powerful quad-core ARM Cortex MT8382V 1.3 GHz processor. In combination with 1 GB of RAM and the Mali 400MP2 graphic card, it can smoothly playback HD videos and deliver perfect work of most modern 3D games for Android. The tablet has wide connectivity options: there`s a built-in GSM/GPRS/3G-module that supports all the standards of data transfer through cellular networks, HSDPA and HSPA+ included. Besides, this module can also be used to make phone calls – the option that has recently been rarely seen on tablets. It can be very useful sometimes though, especially keeping in mind the tablet has also a built-in Bluetooth 4.0 module, which means you can always connect a wireless headset to it. Just imagine: you make phone calls through a Bluetooth headset without even taking your gadget out of your bag.
To connect to the Internet at home or in the office, the MultiPad Color 8.0 3G has a built-in Wi-Fi module, supporting the standard IEEE 802.11b/g/n. Having been actively tested for 3 days, the Wi-Fi module has shown stable work even at a considerable distance and good compatibility with various devices supporting 802.11n. As most of the modern tablets, the MultiPad Color 8.0 3G has a built-in G-sensor used for the automatic screen rotation.
The internal memory size is 16 GB, from which 12.5 GB is available to the user.
You`ll never get lost with the MultiPad Color 8.0 3G, as it has a built-in GPS module that can easily define your coordinates and show your location on a map of any navigation app.
Thanks to the FM module, you can always listen to the music or local news. Just remember you need earphones connected to the device to get the radio work.
With the OTG cable you can connect a USB flash drive, a portable hard drive or a keyboard. It can be really helpful when you need to edit some important documents stored on a USB flash drive.
When you connect your tablet to a laptop or a desktop with a USB cable, it is identified as a portable device which allows you to get access to its internal memory without installing any additional software, e. g. drivers. Developers and advanced users also have the possibility to work in the ADB mode.
Software
The MultiPad Color 8.0 3G runs the Android 4.2.2 OS. The shell is mostly default, just with the nice analogous clock with the Prestigio logo on the homescreen.
Among the pre-installed apps there is a Prestigio styled alarm clock, a great reading app eReader Prestigio with an integrated online bookstore, a branded apps e-shop MultiStore Prestigio allowing a user to save up to 140 euro on applications, the OTA Updater utility and a great office package OfficeSuite Pro 7.2.1.
Of course, besides MultiStore, you have an access to Google Play market as well. Among the exclusive app offers for Prestigio users, MultiCloud is probably most worth mentioning. It`s a cloud storage of as much as 200 GB provided for free for 1 year exclusively for Prestigio users.
The software part of the MultiPad Color 8.0 3G leaves quite a positive general impression with no complaints about speed or stability.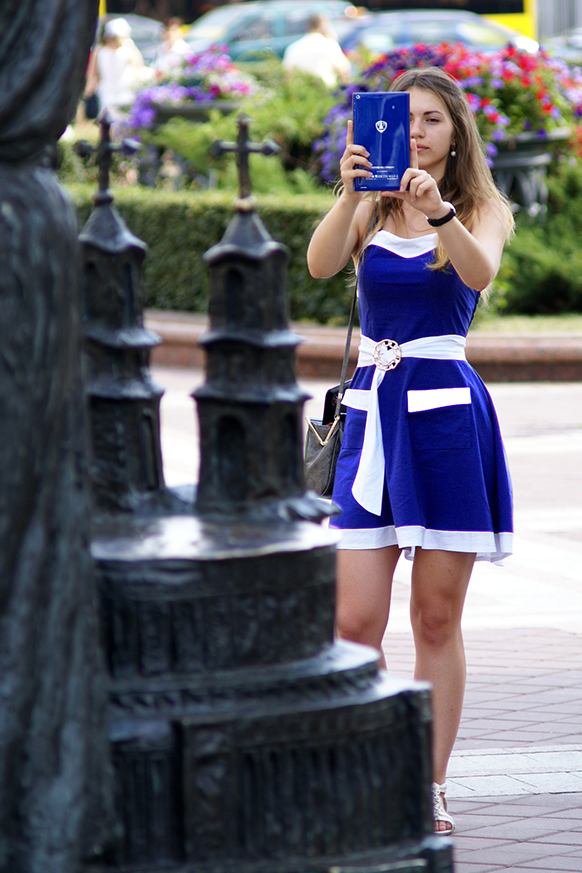 Resume
The Prestigio MultiPad Color 8.0 3G has come out a bright, powerful and really well-executed tablet. Various back panel colors, stylish design, modern hardware and wide connectivity options – all these are definitely the competitive strengths of this gadget. The tablet will perfectly suit young customers: you will never get bored with it – you can always be in touch with your friends through social networks, watch HD-videos, make phone calls or listen to the FM-radio. While travelling, the built-in GPS-receiver will be of great help to you. On the other side, the black variant of the MultiPad Color 8.0 3G will perfectly suit more conservative consumers or businesspeople having to conform to the corporate style. The retail price of the MultiPad Color 8.0 3G is 190 euro, and it`s 120% worth it.