Pleasing the Eye – A review of Prestigio Multipad 7.0 Ultra Duo
07/03/2013
It is becoming increasingly more difficult to choose a mobile assistant on the today's saturated market of tablet computers. While comparing processor gigahertz level and memory gigabytes, do not forget that in addition to these, no doubt, important properties, a device for daily use should also simply please the eye – not only by its appearance but also by a high-quality display. When it's hard to take your eyes off the display… this is what Prestigio Multipad 7.0 Ultra Duo is like.
Delivery Package
The tablet is packed in a compact cardboard box of the black and red colour scheme. Shiny silver words on the box along with the Android 4.1 logo attract the attention of potential buyers.
Having opened the box, we find inside – except for Prestigio Multipad 7.0 Ultra Duo itself – a fairly rich set for a 7'' tablet: a pocket case, a 220V battery charger compatible with European, American, and British outlets, a microUSB cable for charging and synchronisation with a PC, and a user guide. The standard delivery package may also include an OTG adapter.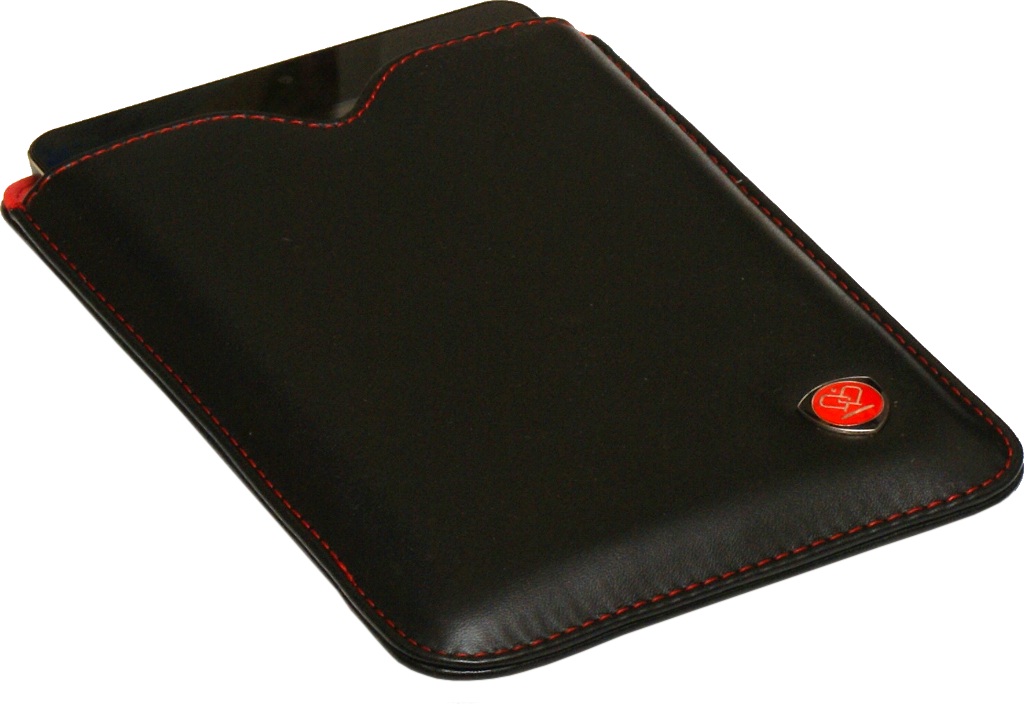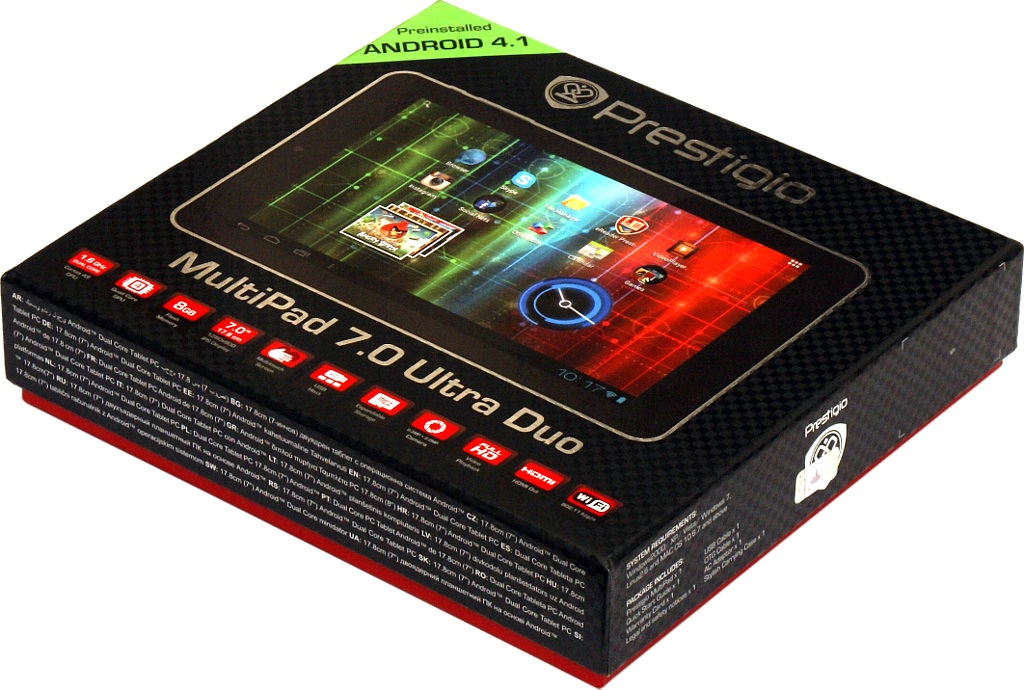 The stylish leather case is what sets PMP5870C_DUO apart (this is the short name of the hero of this review given to it in the manufacturer's documents) as compared to many other 7'' tablets. Stitched with a strong thread and lined with soft fabric inside, this case is able to protect the tablet from minor troubles of life. It should be noted that the tablet is removed from the case very smoothly.

The charger has a standard USB connector, so it won't be hard to find another charger when you need to charge your tablet at home or at work. 7'' tablets usually fall within the low-cost range and can't boast of a good delivery package. PMP5870C_DUO, however, is an unusual 7'' tablet PC, and it turns out to be better even in terms of the delivery package than its counterparts of the same price range by other manufacturers.
Appearance
Prestigio Multipad 7.0 Ultra Duo's body is made of metal, which increases the strength of the device. Only the front panel is made of glass. Smooth rounded edges, grey back cover, black front panel, and thin silver edge – PMP5870C_DUO's design is calm and business-like. Build quality is pleasing; no matter how I tried to squeeze at least some squeaks out of the tablet, this didn't occur. Hard buttons are pressed with a clear click and are well-adjusted.

The tablet's dimensions are 188*116*9 mm, and its weight is 300 grams. Thus, PMP5870C DUO is a fairly light and compact 7'' tablet, and it can be easily held in one hand.
Most of the tablet's front side is occupied by the screen. The first impression that the screen leaves after the tablet is switched on is awesome. With the resolution of 1280*800 and 7'' diagonal, the picture is very clear and rich. The matrix is made by IPS technology, which ensures excellent viewing angles and good colour rendition. The screen suits reading and watching videos well; the brightness is sufficient for most situations. Surely, multi-touch is supported. Information stays legible even in direct sunlight, although display's reflective coating has slight glares. The front panel's plastic is difficult to scratch, which ensures good protection of the display from various sharp objects.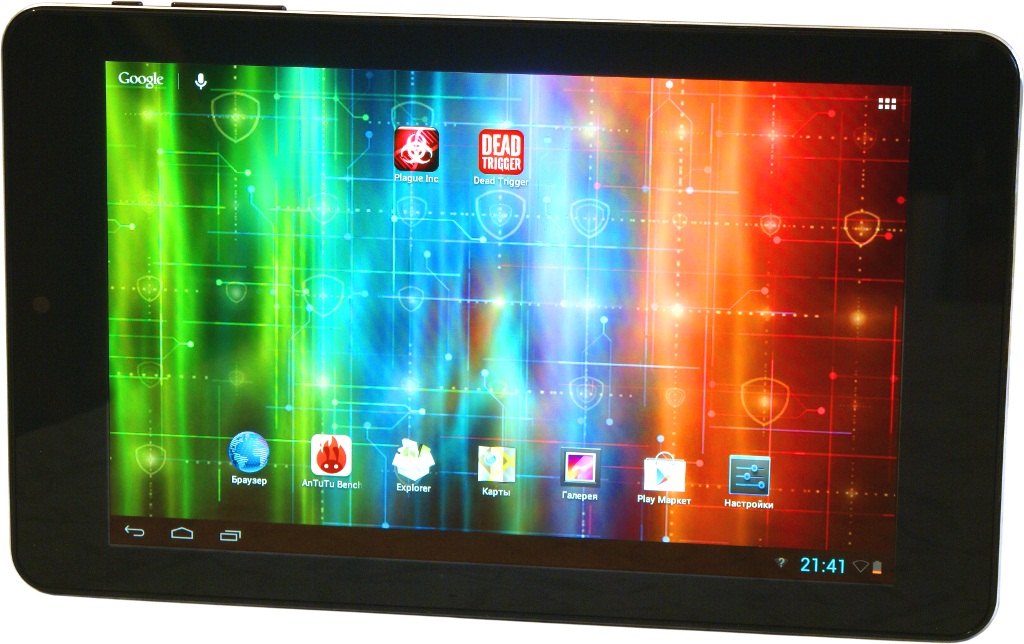 There is a small 0.3 Mpx camera for video calls at the top of the front panel. This front camera ensures a fairly acceptable image quality in Skype, for which it is actually designed.
The top side includes a microphone aperture, as well as a microUSB and a MicroHDMI connector. The only microUSB connector is used for charging and PC synchronisation, as well as for connecting various peripherals. MicroHDMI allows connecting the tablet to many modern TV-sets and monitors; however, it would be wise to get an adapter for a full-size HDMI in advance.

There are no functional elements at the left side of PMP5870C_DUO. The right side of the device includes volume rocker and power button, which is traditional for Android 4.x tablets.

The bottom side includes microSD memory card slot, two small grills of the built-in speaker, and a 3.5 mm headphone jack. The microSD memory card slot supports SDHC cards; my test 32 GB Transcend card worked without problems.

The device's back panel can please the owner with the 2 Mpx camera. The quality of photos is rather average by today's standards; it is similar to that of most mobile phones. This quality is sufficient for any everyday photos or video notes.

As in most modern tablets, the battery is built-in and non-removable. The lithium-ion battery has a capacity of 4,000 mAh. This is enough for 3 hours of video playback or for 5.5 to 6 hours of text reading. However, due to the possibility of charging through USB, the issue of battery capacity is not so critical for PMP5870C_DUO.
Hardware
The hardware filling is also very good. Rockchip RK3066 processor with a clock frequency of 1.6 GHz cheerfully grinds with its two cores the vast majority of modern games, in which it is aided by the quad-core Mali 400MP graphics accelerator (supporting OpenGL ES 2.1) and by 1 GB RAM. There are no problems with FullHD video playback, as well; all of my test BD rips played without any 'artefacts' or freezing. It should be noted that because of the high-quality screen PMP5870C DUO can really be fed with 1080p video files.
The volume of internal memory is 8 GB, of which a little less than 5.5 GB is available for the user. Fans of mobile gaming will appreciate the excellent built-in 3D accelerometer that showed good operation with various gaming applications. Built-in communication interfaces are represented only by Wi-Fi 802.11b/g/n. Wi-Fi module's sensitivity can be assessed as good; there were no problems with my test access points, both with the renowned ZyXEL and with cheap TP-Link and ZTE.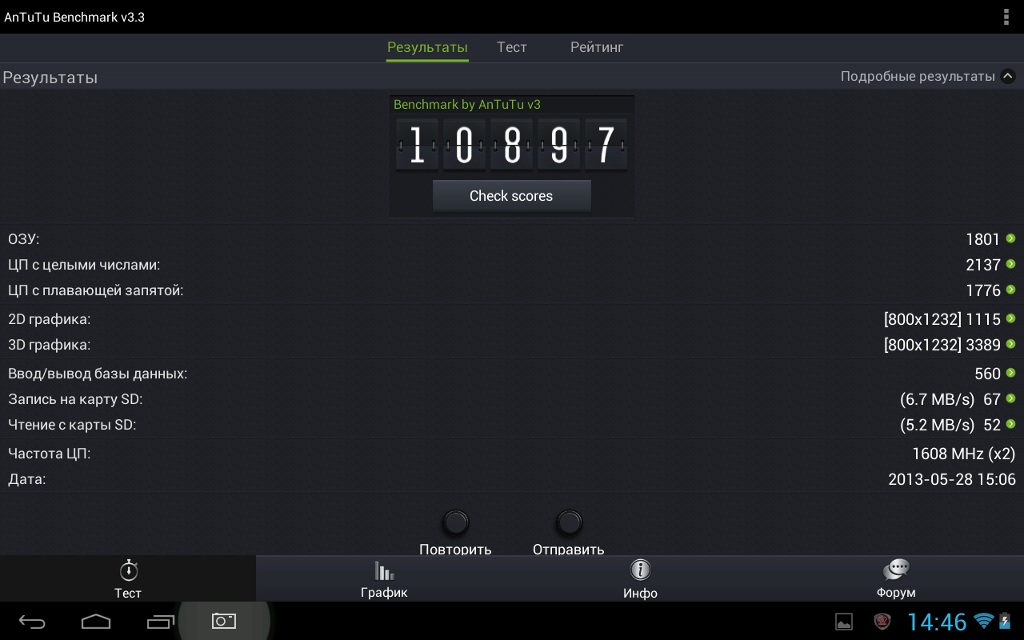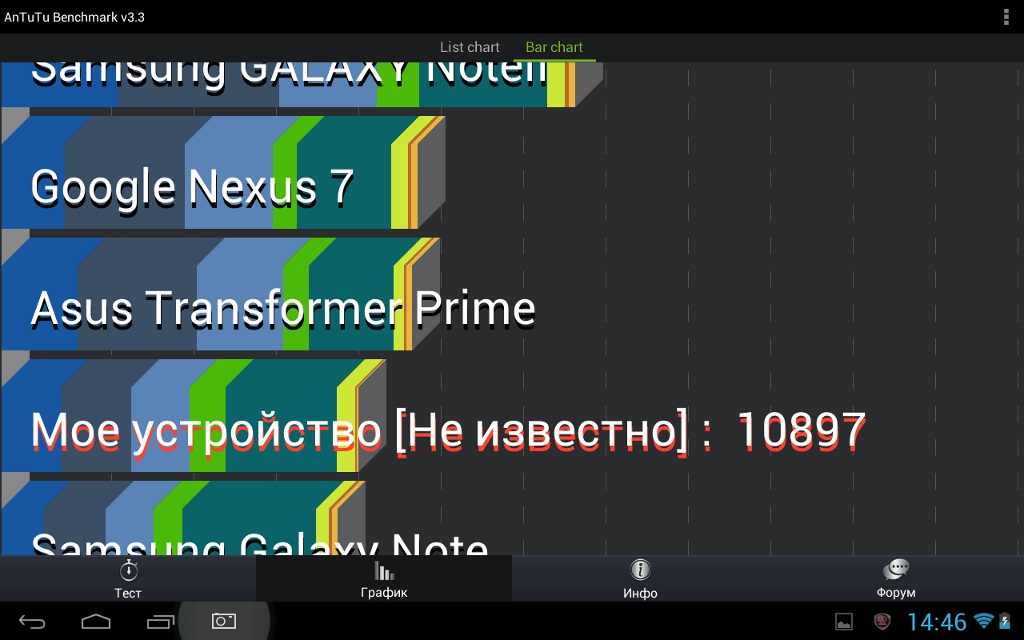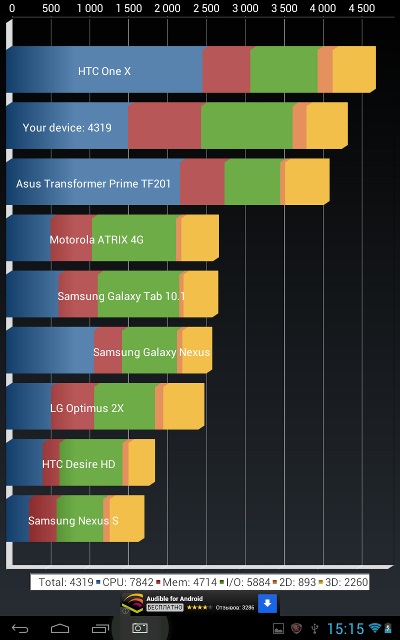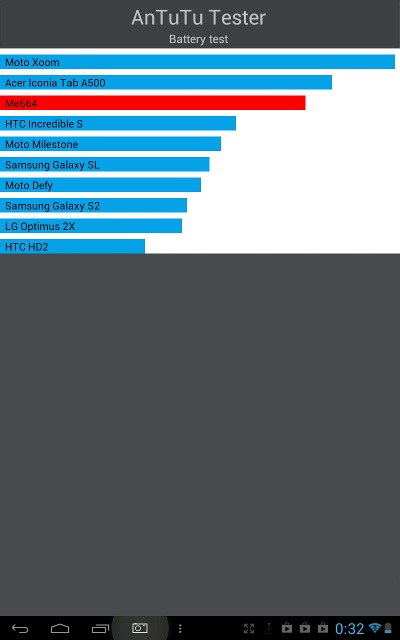 Tablet's communication capabilities can be expanded by way of connecting an external USB modem via an OTG adapter. All required settings and drivers are already present. Also, there are no problems with the operation of external USB keyboards and USB flash drives. It is curious that this tablet can work even with some portable USB hard drives that have current consumption of up to 0.7 to 0.8 A.
The microUSB connector can be used for connection to a PC; there is both the standard storage device mode that requires no drivers and the ADB mode for developers.
Operating System and Additional Applications
Prestigio Multipad 7.0 Ultra Duo runs on Android 4.1.1. The system shell is absolutely standard, which is, in fact, good – each buyer can decide whether he or she needs any additional launchers or whether the usual Android 4 interface is enough. Firmware version on my test device was 1.0.4; it was this firmware that was tested.
PMP5870C_DUO has two sets of built-in applications; the first set is integrated into the firmware, while the second one is included in the internal memory and is installed through Prestigio Installer. The first set contains Explorer file manager, the proprietary book reading application with the integrated e-shop Prestigio eReader, and the most recent version of the OfficeSuite Pro 7.0.1.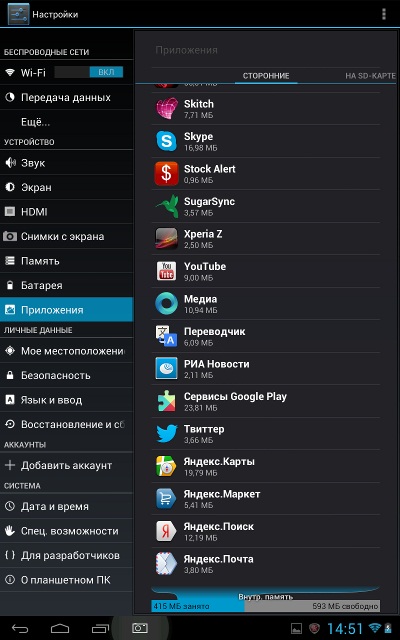 The second set includes the following: Flash Player, a collection of solitaires 250+ Solitaires, Chess Free, a set of Yandex applications (only for the Russian market), RIA Novosti news informer (only for the Russian market), an application for storing files in the cloud storage SygarSync, currency converter, exchange informer Stock Alert, Prestigio's proprietary application for working with stock quotes Blue, and a convenient client for working with photos in Evernote called Skitch.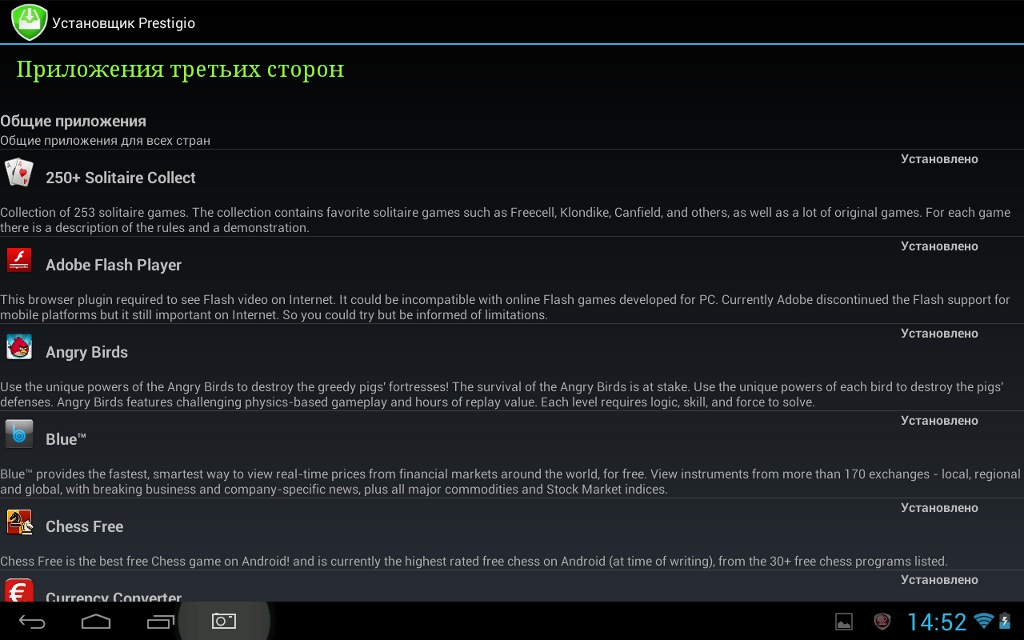 The tablet pleases the user with its fast and stable operation; the operating system and all applications function very swiftly. There are no hangs or glitches.
Conclusion
Prestigio MultiPad 7.0 Ultra Duo turned out to be a very nice tablet that pleases the eye with its excellent display and fast operation. You just have to watch the screen of this device live; even our photos aren't able to fully convey the pleasant feeling that the super clear display of PMP5870C_DUO produces. This tablet can be easily called 'the new generation 7'. It's hard to point out any special shortages, except perhaps that battery life might have been a little longer.