Professional's Assistant – Prestigio MultiPad Note 8.0 3G
04/15/2013
Tablet PCs have penetrated almost every area of our lives today; they are becoming a necessary tool, a notebook, a pocket-book. This is a potential aid of all sorts of specialists – from car service mechanic to physician. However, one has to use most Android tablets with bare hands, which isn't always possible at one's workplace due to a variety of reasons – dirtiness or, vice versa, sterility of the environment. It is for real professionals that MultiPad Note 8.0 3G has been devised – the tablet that supports both the multiple-point control by fingers and a special stylus.
Package and Its Content
The tablet is packed in a small neat box, made in Prestigio's usual black-and-red colour scheme. The relief picture and silver-like embossed inscription – the stylish appearance of the box delights the eye. A bright yellow corner on the box states that the device inside it supports a convenient handwriting input.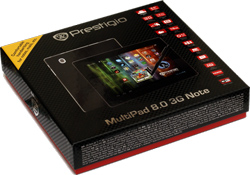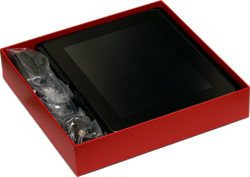 Let's open the box and have a look at the delivery package. Inside we find: MultiPad Note 8.0 3G tablet, a battery charger with two plugs (for European and British sockets), a folder case with Prestigio logo, a USB-microUSB cable for synchronisation with a PC, a USB OTG adapter for connection of peripherals to the tablet, a stylus, and a user manual.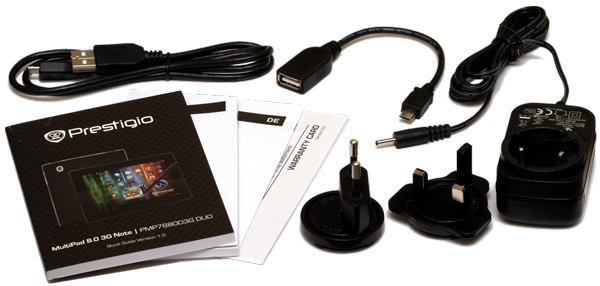 The folder case seems quite simple at first sight, though the manufacturer's logo looks great on it. But having opened the case, we discover a velvet surface pleasant to the touch and a special fixture that holds securely not only the tablet itself but also the stylus. Thus, the stylus won't be lost, and will be always accessible for the tablet owner. By the way, there's no need to remove the case to use the built-in picture camera – the case has a neat aperture for the lens. However, the case has one more unobvious surprise – it is active. When you close it, the tablet will automatically go to the sleep mode; when you open it, the tablet will awake ready for work. Myself, I haven't seen such a solution in Android tablets before, and it has been implemented in MultiPad Note 8.0 3G very successfully.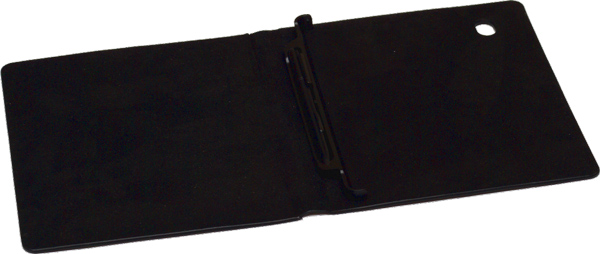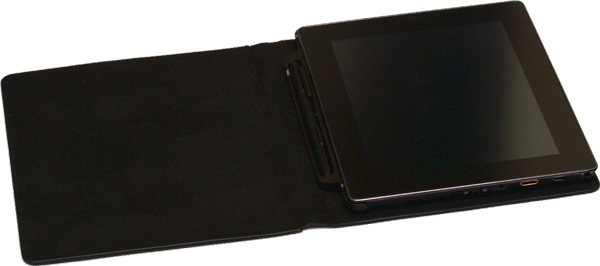 The stylus looks like an ordinary ball-point pen, and even has a traditional pen fixture for pouch. The operating principle of the stylus is electro-magnetic. So, you'd better not lose the stylus – it would be problematic to find the needed replacement. When you approach the stylus to the screen, it lights a small white spot that allows you touching the screen more accurately. Apart from the simple click, the stylus has additional pushbuttons that can be set for various functions of the Anrdoid system – 'back', 'open menu', and several others. Opening the menu by the button in the middle of the stylus was the most convenient option for me – a classical variant of the right mouse button by analogy with table operating system. It is convenient to set 'reset' for the button at the stylus' end.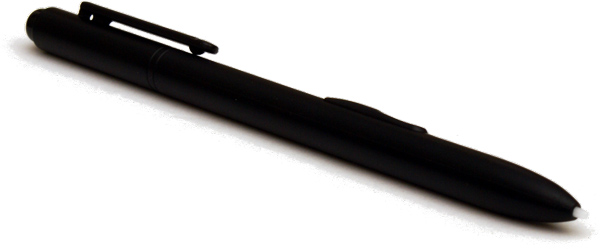 MultiPad Note 8.0 3G's delivery package is worthy of praise – simple by sight, but very convenient, the functional and active case, the multiple-function stylus, the OTG adapter – all that you need to use a tablet.
Appearance
The device's body is made of opaque black plastic. The plastic is nice to the feel and isn't too slippery. The front panel is also black, and has a thin silvery trim. The quality of assembly is fair – not only every part of the body, but also every pushbutton and even the covers are fitted very tight, so nothing is loose. A device with such quality of assembly will serve truly for several years, and won't turn into a wrecked monster as will many cheap Chinese tablets.

The dimensions are standard for an 8'' tablet PC – 207*164*11 mm, weight is 450 grams. MultiPad Note 8.0 3G can be held with one hand for a fairly long time thanks to its low weight and the wide trim around the display.
Most of the front panel is occupied by the IPS touch screen with 1024*769 pixels resolution. The screen supports not only the multi-touch traditional for Android tablets, but also the control by the stylus described above. The screen quality is pleasing – good illumination brightness, perfect viewing angles, and black colour close to natural. The display is protected by a durable Gorilla Glass. Additionally, a special polymer coating is sticked over Gorilla Glass. On one hand it reduces glare from the light sources, and on the other hand it makes the use of a stylus more enjoyable (soft touch). The polymer coating is more sensitive to scratches unlike Gorilla Glass, so if you manage to scratch the outer coating of the screen, it can be gently removed and the tablet screen will be again as good as new.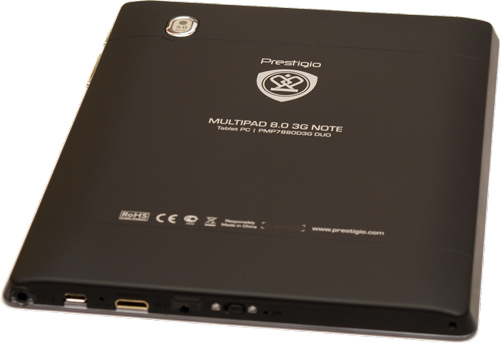 The top part of the front panel has a 0.3 Mpx camera. No higher resolution is needed for video conference, and there is a second camera for still pictures that will be described later.
The device's left side has no functional elements, while the right side has the ON/OFF pushbutton and a double key for volume control. Tablet's top side has two strong loudspeakers and the slots for memory cards and a SIM card protected by neat covers. The tablet understands microSDHC standard memory cards perfectly – my 16 and 32 GB test cards were read with no trouble. The cards are ejected with no specific trouble, except that you have to catch the trick of opening the protective covers.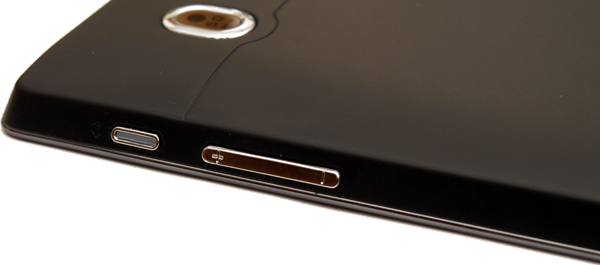 MultiPad Note 8.0 3G's bottom side has a microphone aperture, a 3.5 mm terminal for headphones, a touch screen switch, a microUSB terminal, a miniHDMI terminal for connection to a TV-set, a small round terminal for battery charger, and a flush-mounted restart button.
The headphones sound is of high quality – the tablet is quite capable of revealing the potential of most user headphones of the medium price range. The microUSB terminal is used not only for synchronisation with a PC, but also for connection of various peripherals. All USB flash drives and several keyboards that I have tested operate with no trouble. Even my old portable 320 GB hard disk has started easily with MultiPad Note 8.0 3G, though not every laptop can start it from a single USB port.

The touch screen switch allows you working only with the stylus, holding any part of the tablet easily and not fearing pressing the screen. This can be very useful in some situations, especially in one's professional activities. For example, a car service mechanic with strong large fingers can hold MultiPad Note 8.0 3G, touching the screen, but no false pressings will occur.
The tablet's rear has a second camera – a powerful 5 Mpx camera with auto focus and a small mirror for self-portraits.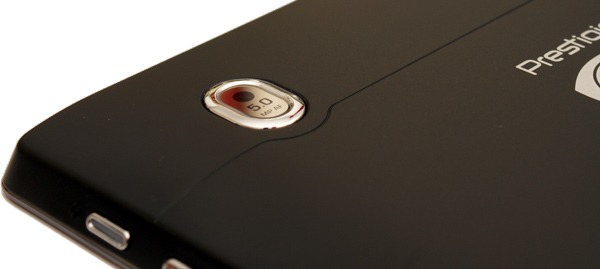 Picture quality surprised me – it is close to that of the top smartphones; the images are absolutely perfect in normal lighting. Such camera is convenient both for simple reminder photos and for document scanning.
Please find below test photos from camera.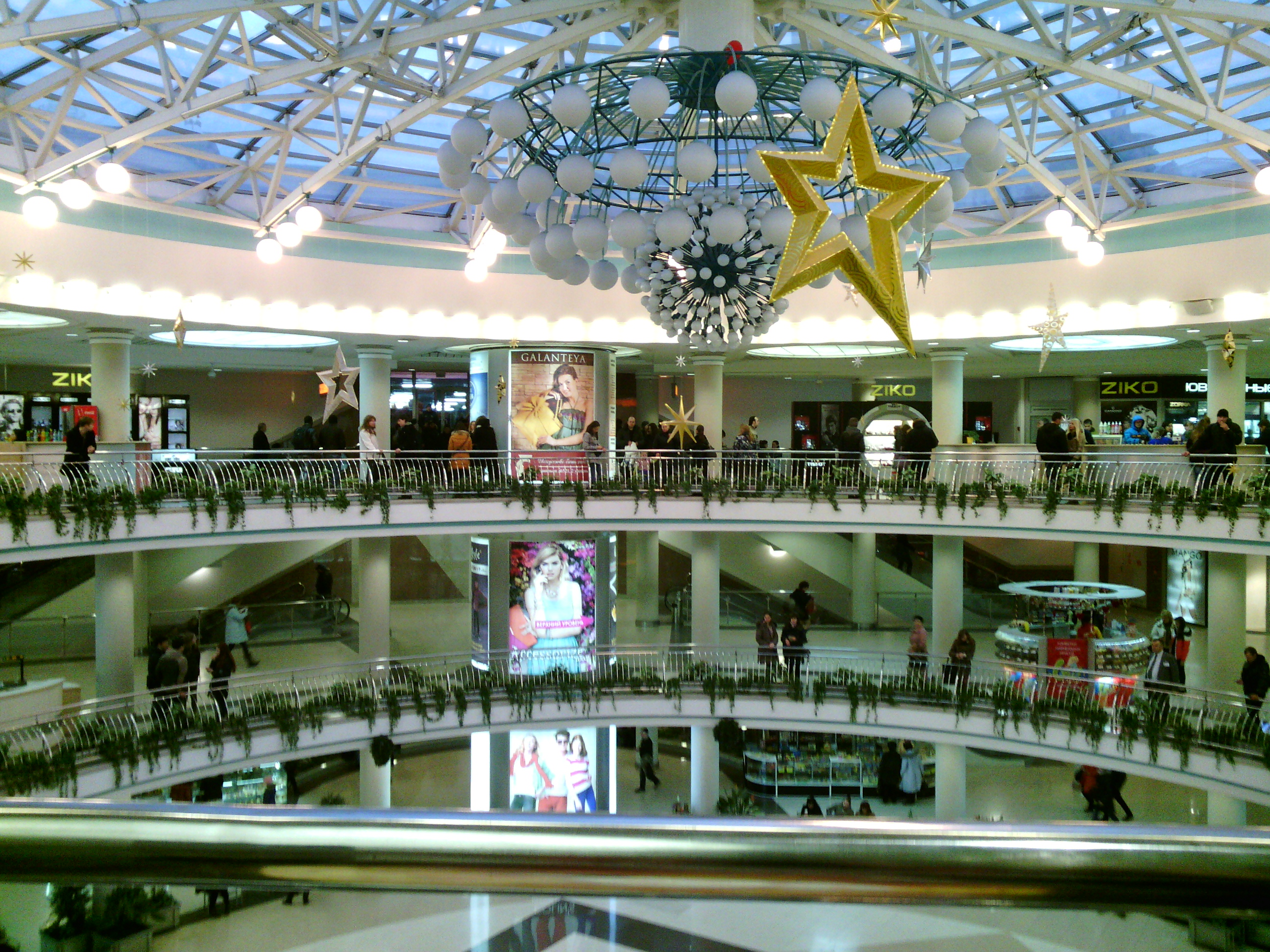 MultiPad Note 8.0 3G has a lithium-ion battery with a record-breaking capacity for such small and light tablet – 6,000 mAh. Autonomous operation time exceeded 5 hours in the maximum illumination mode and with both wireless modules active. The device operated for 7 hours and 5 minutes when watching a film in the built-in player at the medium illumination level, and for almost 12 hours in the book reading mode. This is what I call real mobility – with MultiPad Note 8.0 3G, you won't have to look for a socket during business hours anymore.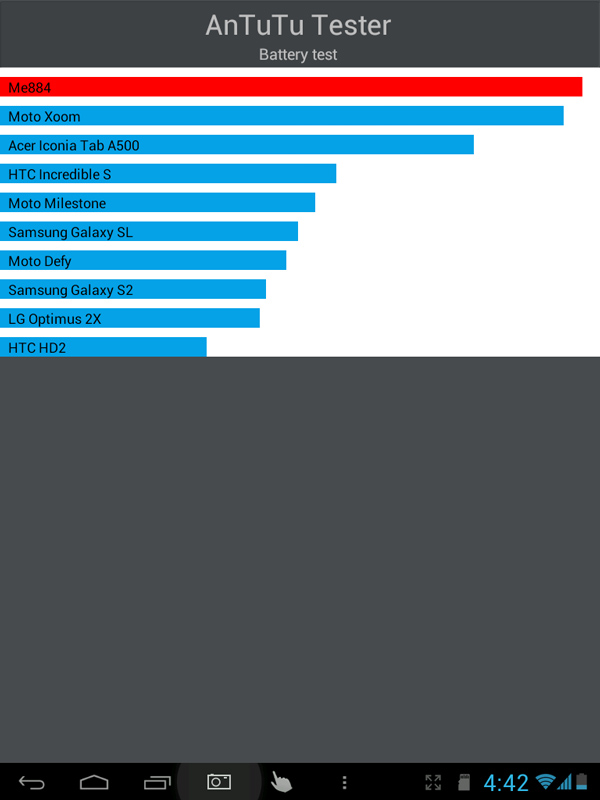 Hardware Filling
Prestigio MultiPad Note 8.0 3G can please you not only with its perfect appearance, but also with its powerful hardware. Rockchip RK3066 dual-core processor operates at 1.6 GHz frequency. It is complemented by 1 GB DDR3 RAM and Mali 400MP quadruple-core graphics accelerator. All this allows the tablet to receive good grades in synthetic tests, and play most modern games for Android platform confidently. Such games as Asphalt 7, MaxPayne, and GTA play without any drags, let alone lighter games. The tablet plays BlueRay rips without any difficulties, as well.
Wireless interfaces are represented by the Wi-Fi and 3G modules.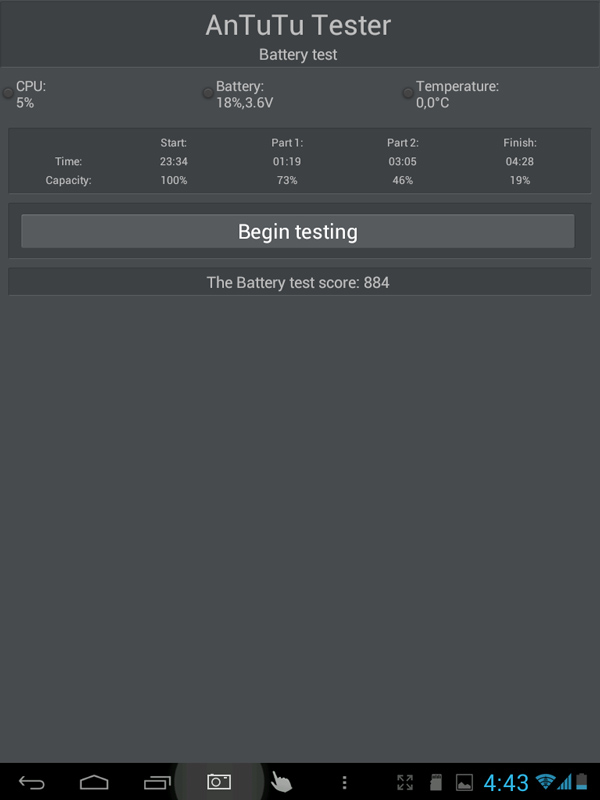 The Wi-Fi module supports all modern standards, including 802.11n. The module aerial is of high quality – even two bearing walls and 50 m distance weren't a barrier for Internet surfing. It is important that the access point isn't too cheap, or else there can be problems with the 802.11n mode.
The 3G module supports the GPRS, EDGE, and HSDPA data transfer standards and can operate with GSM 850, GSM 900, WCDMA 2100, WCDMA 900, GSM 1800, and GSM 1900 standards. I would evaluate the sensitivity as good, at the level of the most successful modern GSM telephones. However, the 3G module is designed only for data transfer, and can't be used for voice calls.
A Bluetooth module is absent; but this can't be called a big shortage of this tablet, since you can't use it for phone calls anyway. G-sensor's accurate operation is pleasing both when turning the screen in the system and in various games.
It should be noted that the tablet doesn't have a full-fledged GPS, and therefore, it can't be used for car navigation. However, there is an a-gps, so you'll manage to understand more or less correctly where you are. But the accuracy will be low.
Many specialists will value the possibility to display a presentation or a report on a large screen using the HMDI out. They just need to buy the suitable cable beforehand. And MultiPad Note 8.0 3G can well be used as a multimedia player during one's leisure time. Like most Android tablets, this tablet when connected to a PC can be defined as a removable disk and in the adb setup mode. MultiPad Note 8.0 3G is charged only from the battery charger; charging from USB isn't provided. The ON button lights red during charging.
Handwriting Input
I would like to share a few words about my impressions of using this tablet with the stylus. Unlike several other tablets that use capacitive styluses, MultiPad Note 8.0 3G allows you making your handwriting notes very conveniently indeed. Just start the proprietary SmartNote utility, open one of the virtual notebooks – and write, draw, create. Moreover, depending on the force of pressing, the line weight changes, which is very convenient when drawing or sketching plans or diagrams. Besides, SmartNote can synchronise your notes with the popular service Evernote, so you'll manage to have the most up-to-date versions of your notes in all of your devices.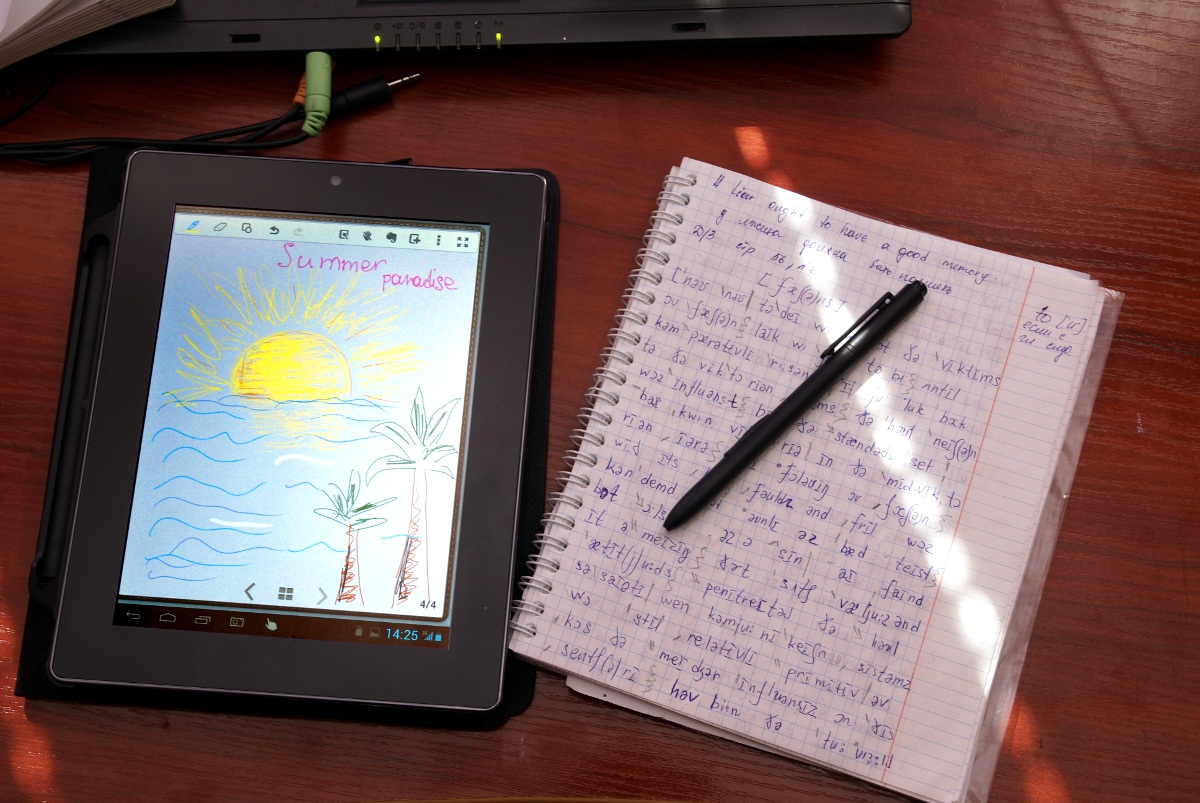 One more proprietary utility Mail allows creating quick handwritten notes and sending them via e-mail in PNG format. Such method of data transfer suits a small comment, sketch or diagram much more than a standard text note. But, of course, you can add a text note to your letter by just one easy move.
If you install Photoshop Mobile, you'll manage to use MultiPad Note 8.0 3G efficiently to demonstrate various concepts of designer projects and make minor corrections on the spot. It is very convenient and easy to work with layers or to cut unnecessary parts using the stylus. A designer that has to visit his clients often will surely value this tablet.
If you have to work in gloves, or it is simply too cold and uncomfortable outside to use your fingers, the stylus will help you again, because it can be used even if you wear warm mittens, and the indication accuracy won't be compromised. After MultiPad Note 8.0 3G, one begins to realise how much most other tablets aren't suitable for use in winter.
The stylus turned out to be surprisingly useful in games, as well – it is pure pleasure to control a hero in 3D shooters. Also, Note 8.0 3G gives huge advantage in the games where the accuracy of indication is important – for example, in Cut the Rope.
Students, physicians, architects, engineers – all of them will, surely, need the convenient stylus of the new Prestigio tablet. I for one haven't seen such great stylus attached to any device for a long time now – it just becomes the extension of your hand, the extension of your creative ideas that you want to write down urgently while your muse is still here. In my opinion, it is difficult to overestimate the usefulness of the stylus support if you try this type of data input to the tablet just once.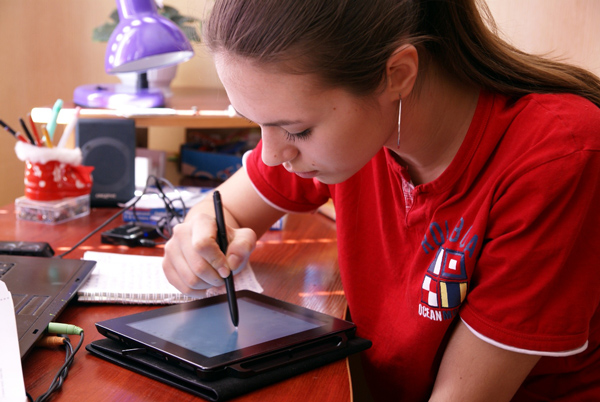 Software
This tablet operates with Android 4.1 operating system. The modern version of this operating system allows utilising the application suite created for the Android platform. The system shell is almost standard with the only difference being the Handwriting Input ON/OFF button at the bottom bar of virtual keys. This bar doubles the functions of the respective physical switch.
There are a lot of preinstalled applications, as is usual for Prestigio. A real professional works often with documents, and MultiPad Note 8.0 3G can help in this respect with its OfficeSuite Pro 6.5. This is one of the best applications for working with documents based on Android platform and possessing all required functionality.
There is also a convenient e-book reader Prestigio eReader with beautiful execution as a bookshelf and a built-in bookstore. In addition to the above-described SmartNote application, there is also the classical client Evernote. Also, you can install the additional set of applications through the proprietary Prestigio Installer. These include the set of 250 solitaires called Solitaire Collect, Adobe Flash Player, the world-famous game Angry Birds, manager of stock-exchange quotations Blue (a very convenient application for financers that can be found only in Prestigio tablets), Stock Alert currency informer, Chess Free game, currency converter, SygarSync cloud storage client (up to 5 GB of free cloud storage), Twitter client, translation application Translate, Skype client, and Opera Mobile browser. The tablets designed for the CIS countries will include the additional set of Yandex applications.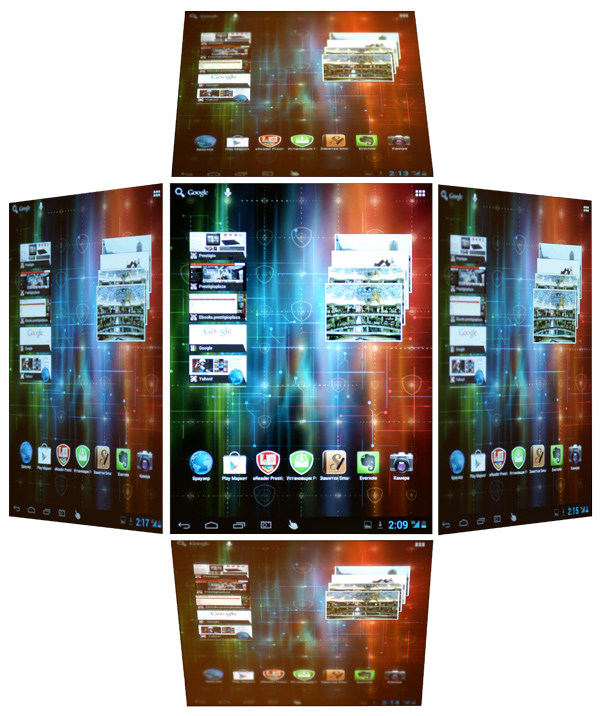 The tablet's software left positive impressions; the system operates quickly thanks to the powerful processor, and there are no claims against stability. There was no real need in the 'reset' button.
Conclusion
This is one more time when a Prestigio tablet managed to surprise me. A powerful modern tablet with the long-time of autonomous operation and a very rare peculiarity – the stylus support. In fact, data input with a stylus is a very convenient method in all sorts of real-life situations; you should only try it, and it is entirely possible that MultiPad Note 8.0 3G will enchant you. And this new Prestigio model will surely become a convenient solution for professional use in various heavy conditions.