Stylish and Smart – A review of Prestigio Multipad 2 Ultra Duo 8.0 3G
02/25/2013
Tablet PCs have long ago ceased to be a gimmick and the lot of computer geeks. Today, even the fair sex takes interest in convenient mobile assistants. But, apart from good specifications, a tablet for beautiful ladies should have two more important properties – a pleasant stylish appearance and light weight. It is about such stylish and light 8'' tablet – Prestigio Multipad 2 8.0 3G Ultra Duo – that I will tell you in this review. And for the review not to be too meagre, I asked my female friend to participate in the testing.
Inside the Box
Prestigio Multipad 2 8.0 3G Ultra Duo (hereafter – PMP7280C3G) has a small and neat package resembling a handbag. The similarity between the package and a handbag becomes even more obvious due to the embossed cardboard that simulates leather and due to beautiful silvery inscriptions. Such box will immediately attract the attention of the fair sex in the shop amid usual dull packages.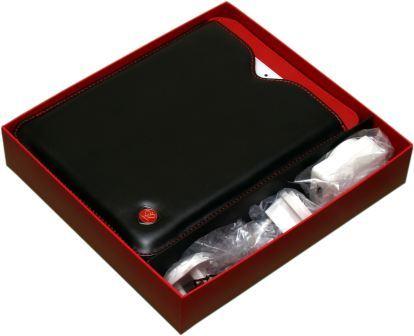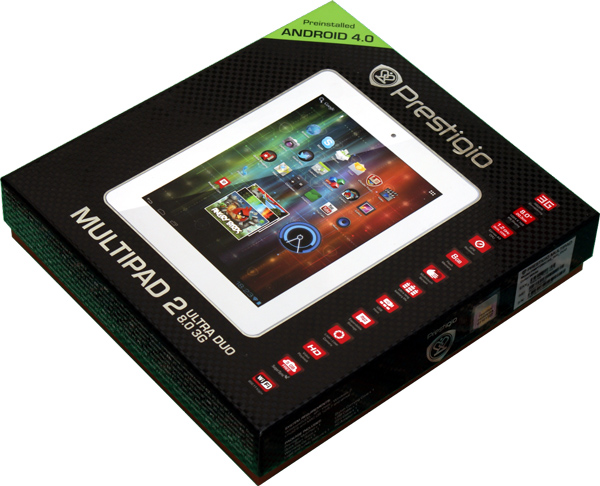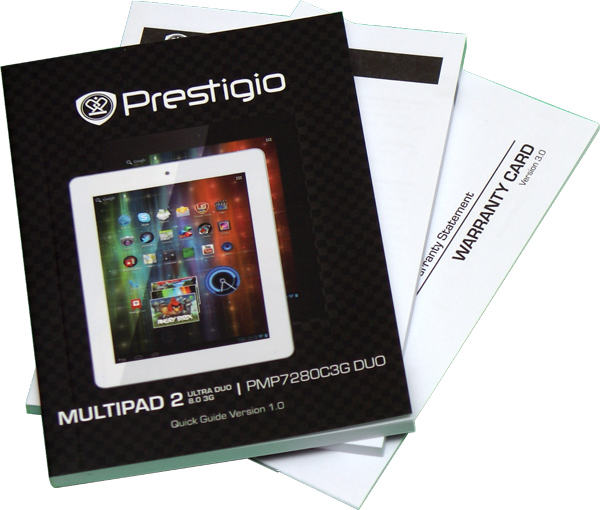 And inside we discover the tablet itself that coquettishly peeps out of the stylish pocket case. The solid high-quality leathercloth case can protect the tablet from scratches from various sharp objects inside the handbag – this is an excellent gift from the manufacturer to the potential owner. The case has no cover, but this is probably an advantage – everyone will see at once that there is a stylish tablet inside the case.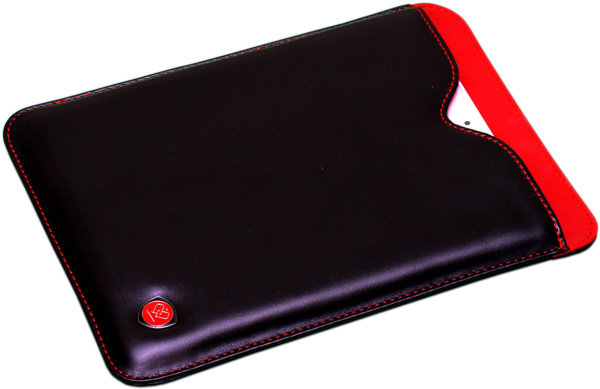 The box also includes a mains battery charger with two plugs (European and British), a microUSB and a USB-OTG cable, and a brief user manual in different languages. It should be noted that the battery charger has the USB interface – the beautiful lady could use it to charge not only the tablet, but the majority of modern smartphones, as well, which would allow saving space in her handbag. Every accessory is executed in the same colour scheme as the tablet – white, in the case of my device. Because of this the battery charger and the cables look stylish and harmonious together with the tablet.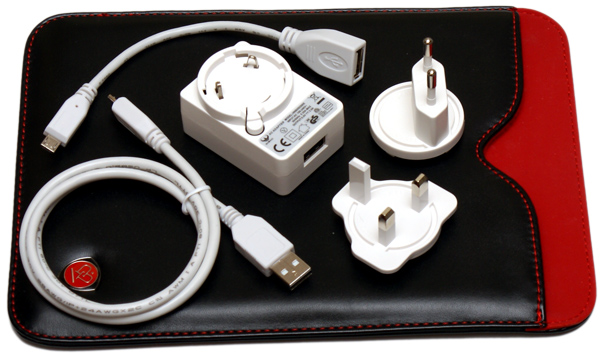 On the whole, the delivery package can be evaluated as a good one: it combines usability and a bit of coquetry.
A Pleasant Appearance
PMP7280C3G's body is mostly made of metal, while the front panel is made of white plastics. There is also an option with a black front panel. The first look at the tablet creates the feeling of lightness, and I felt the same throughout the entire testing process. Just think – while having 204*158*9.3 mm dimensions, the tablet weighs only 453 grams! Such light device won't tire its owner with a back-breaking burden, and even a slender young lady can hold it with one hand. And the metal body doesn't only adorn the tablet, but also makes it more resistant to various everyday troubles.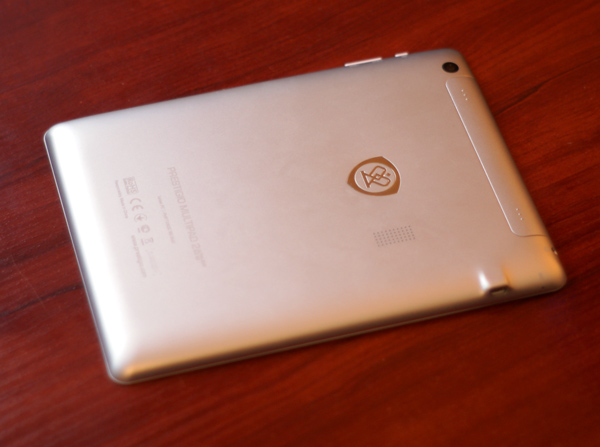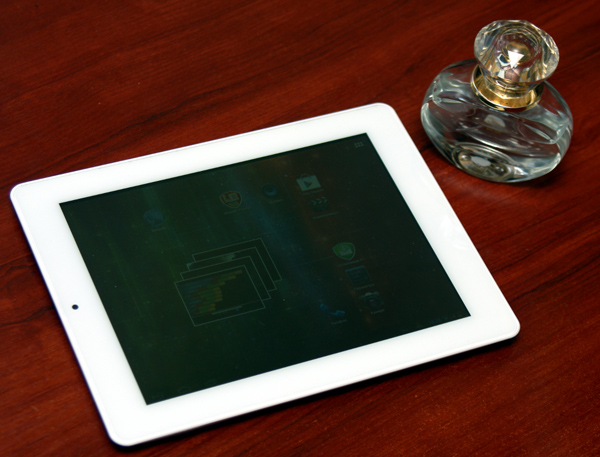 The front panel is reflective as in many modern tablets. My female friend found an unexpected advantage in this – the tablet can be used as a mirror when switched off. Behind the reflective coating, there is an 8'' LCD IPS screen with 1024x768 resolution and multi-touch support. My friend and I were unanimous concerning the screen: it is a perfect and clear screen with natural colours (even the black colour almost isn't distorted, which is by no means characteristic of every IPS matrix) and wide viewing angles – both horizontal and vertical – which allows watching media files with your female friends. You'll have only positive emotions while watching photos or cartoons together. The screen, surely, has flares in bright lighting, but remains legible.
The tablet has a frame, which can be held without covering the screen. The front panel also has a front-face camera with 0.3 Mpx resolution. This resolution is sufficient to communicate with your female friends over Skype, and if you want to take a photo of yourself, you should better use the rear camera. There are no interesting elements on the device's right side. Tablet's left side has a 3.5 mm output for headphones and the cover of the memory cards compartment. Headphones' sound quality is fairly good; most user headphones work with the tablet with no trouble. Having opened the cards compartment with nail, we discover two convenient slots for a SIM card and a microSD card. This is the most convenient location for a SIM card and a flash card – first, the cards won't fall out, and second, they can be replaced easily. Some owner of this tablet should certainly bake a chocolate cake for the designers for such fortunate solution.

The tablet supports SDHC cards; it had no problems reading my test 32 GB flash card. The device's top side has an ON/OFF pushbutton and volume control keys. These keys are very ergonomic and can be easily pressed gropingly.
The lower side has a microUSB output used for charging, synchronization with a PC, and for connection to external peripherals through an OTG adapter. There is also the built-in microphone's aperture in the lower side.
Tablet's rear panel decorated with the manufacturer's silver logo has the main camera and the only loudspeaker's grill. The main camera has 2 Mpx resolution, and takes fairly good pictures for such resolution. This is more than enough to quickly upload an interesting photo to vkontakte.ru social network. I would evaluate the volume of the built-in loudspeaker as medium; on the other hand, the sound is fairly clean, and has no gruffness.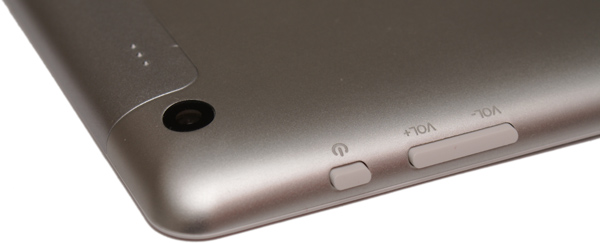 Strangely enough, unlike other Prestigio tablets, PMP7280C3G has no restart button. However, the tablet's stable operation and its precise reaction to the "ON" pushbutton don't allow calling this a shortage.
Tablet's light weight influenced the capacity of the built-in battery – this device utilises a lithium polymer battery of 4600 mAh capacity. However, autonomous operation period is fairly decent; PMP7280C3G worked for almost 5 hours in the video playback mode, and for 7.5 hours in the book reading mode at medium brightness level. Considering the possibility of charging from any USB socket, it may be said with confidence that the tablet, most probably, won't discharge throughout the day.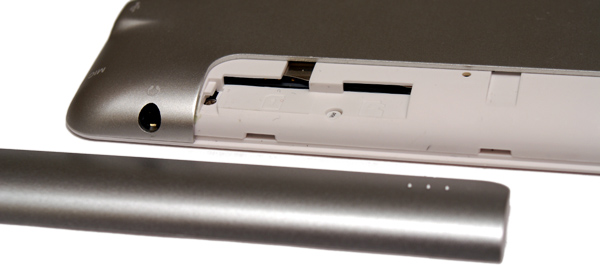 Smart Hardware
Prestigio PMP7280C3G has a fairly modern hardware. The dual core Cortex A9 MTK8377 processor, the 1 GB RAM DDR3, and the dual core PowerVR SGX531 graphic accelerator allow this tablet solving the majority of daily tasks without any hang-ups. Synthetic tests yielded medium results, but most games play normally in actual practice. Graphics setting have to be lowered only for the most sophisticated action games, such as MaxPayne or GTA3; however, such shooters are unlikely to attract Prestigio PMP7280C3G female owners. Moreover, all my test BD rips played without any problems, so watching films is OK.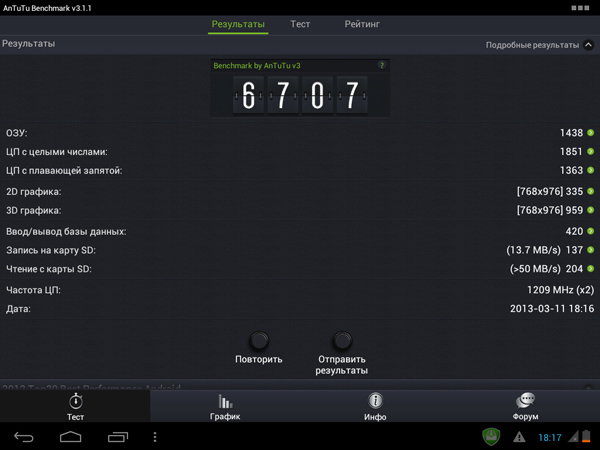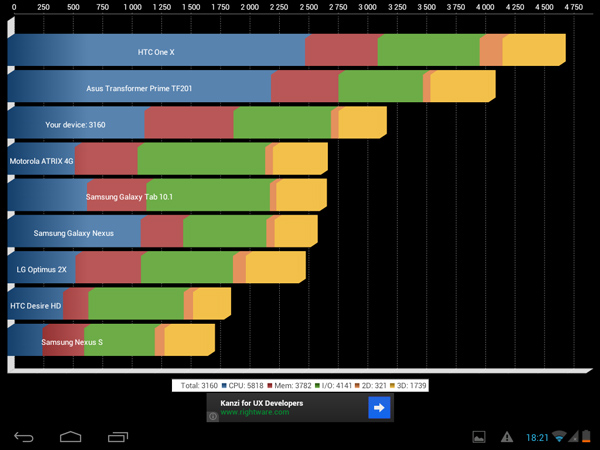 The USB host function allows transferring data from one flash drive to another without a PC, which would sometimes be useful if sharing large volumes of data with your female friends. You can also purchase a small card reader and view fresh photos even from sophisticated cameras.
Prestigio PMP7280C3G will please its owner with the complete set of wireless interfaces. The Wi-Fi module ensures uninterrupted communication 50 metres from the access point through two bearing walls and stable operation under 802.11n standard with any access points, including the cheap ones, such as TP-Link and ZTE.
The GSM module with the HSDPA standard support will allow the PMP7280C3G's owner to use the Internet with maximum comfort, to download big files, and to always stay in touch. Moreover, if your main phone discharges, PMP7280C3G can substitute it temporarily, because it can be used as a full-fledged phone to make calls and send SMS messages. And if you intend to use the tablet's phone functions fairly often, you can use the built-in Bluetooth 4.0 to connect a wireless headset to the tablet for maximum convenience.
There is an option of the tablet without the built-in 3G module, but it doesn't seem proper for beautiful ladies to mess about with external wired USB modems, so it would be better to spare no expense and to buy the tablet with 3G.
It is worthy of note that this device can be used not only as a Wi-Fi access point but also as an Internet hub through Bluetooth. The total volume of the built-in disk space is 8 GB, of which almost 5.5 GB can be used for user's data. The built-in 24-channel GPS receiver is one more useful feature of this tablet. A-GPS is supported to reduce the positioning time. Therefore, Prestigio PMP7280C3G's owner won't lose her way either in the country or in the urban jungle of a modern megalopolis. GPS receiver's sensitivity can be evaluated as good; it managed to locate the position even at the window at my home, which only the best GPS navigators can manage.
The G-sensor operates without any problems; moreover, my female friend liked to play various labyrinth games on this
Like most Android-based devices, a PC identifies Prestigio PMP7280C3G as a removable disk. Interesting additional functions include FM radio that works when headphones are plugged in.
Software
The tablet that I tested had Android 4.0.4. However, there is the Android 4.1 logo on the package ribbon, which makes one hope that an update to Android's last version will appear in the official website's downloads section, as was the case with the 7100 model.
The system's interface is completely standard with no additional launchers. There is a fairly large set of additional applications. The operating system works swiftly, and there are no delays when scrolling through menus, as is sometimes the case with cheaper Android-based tablets. It is pleasant to work with such smart small machine. Prestigio tablet PCs traditionally have two groups of additional applications – namely, the applications built-in the firmware and those installed through the proprietary Prestigio Installer.
The first group includes the alternative mail manager Mail, the proprietary application for reading electronic books Prestigio eReader, and OfficeSuite Pro 6.5. The second group of applications includes Flash Player, a solitaire set 250+ Solitaires, the popular game Angry Birds, Chess Free, Skype, Twitter, Facebook, YouTube, Instagram photo service, a programme for storing files in SygarSync cloud storage providing a network drive of 5 GB for free, currency converter, Stock Alert currency informer, and Prestigio's application for working with stock-exchange quotations Blue.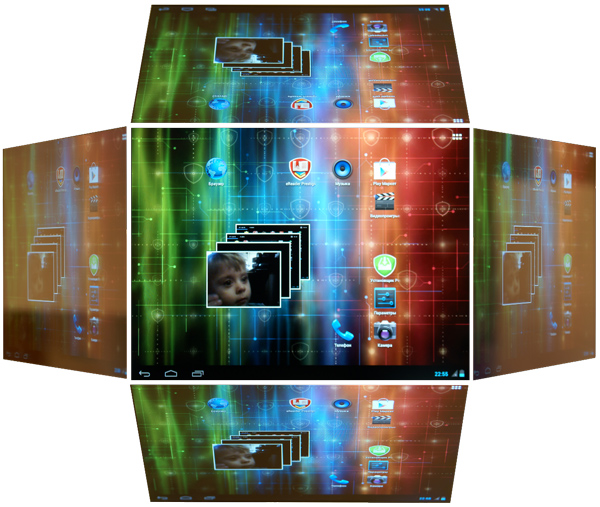 The delivery for the CIS countries also includes various Yandex utilities (photos, disk, commuter trains schedule, etc.) and RIA Novosti news application.
An interesting system setting should be noted – namely, the possibility to switch the tablet on/off according to schedule. This tablet pleased our testing team with its stable operation; absence of the restart button didn't upset anyone.
Conclusion
Prestigio Multipad 2 8.0 3G Ultra Duo is a good modern tablet with Android 4 operating system. It is light, stylish, has a wide range of communication means, and can be charged from any USB socket. It is hard to point out any shortages of this device, except perhaps the heightened attention of women to this stylish gadget.
Prestigio PMP7280C3G of white design will, surely, suit the taste of the fair sex. The tablet of black design will be a good companion of a businessman, allowing him to stay in touch in any situation.