A Playful Pretty Thing – A review of Prestigio MultiPad 9.7 ULTRA DUO
02/18/2013
When choosing a medium-price range tablet PC, the buyer often has to sacrifice either the performance or the screen quality; and if both of these properties are really good, then – according to Murphy's Law – the device will surely have a short time of autonomous operation. But is it possible to combine within one tablet a bright screen with good colour rendition, high performance, and a long-term operation battery charge? Let's find out what Prestigio MultiPad 9.7 ULTRA DUO can answer to this question.
Delivery Package
A colourful box always plays an important part in promoting the product on the market. In the case of the hero our today's review, the packaging makes a pleasant impression. A fairly large black and red box, embossed "silver-like" printing, and vivid emblems of major specifications make Prestigio MultiPad 9.7 ULTRA DUO (or Prestigio PMP5597D, as the box's backside reads) stand out among other similar devices.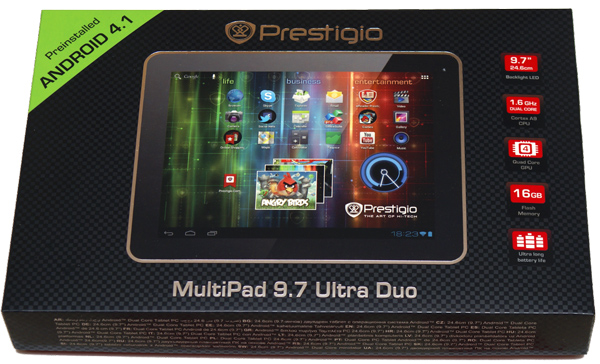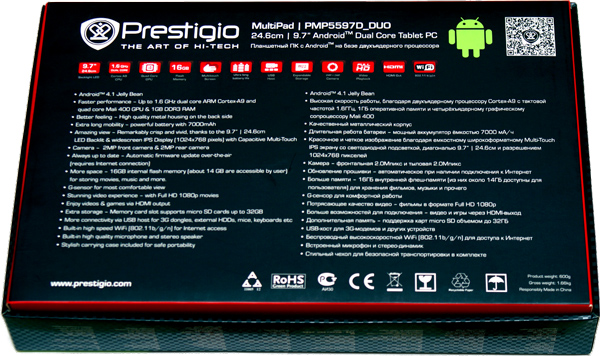 Having opened the box, we first discover a wonderful folder case inside with Prestigio logo. It's great that the manufacturer spared no expense on this accessory.
The case is sufficiently firm, with leather-cloth outside and a velvet layer inside, which allows protecting the tablet against small shocks or falls. The folder case is closed by a classic sticker lock. The case holds the tablet well even when opened; Prestigio PMP5597D won't fall out of it. Apart from the case, the box includes a 220V mains battery charger with two plugs (common European and British), a USB-microUSB cable for connection to computer, a microUSB cable for connection of USB peripherals (OTG), and a brief user manual with a warranty card.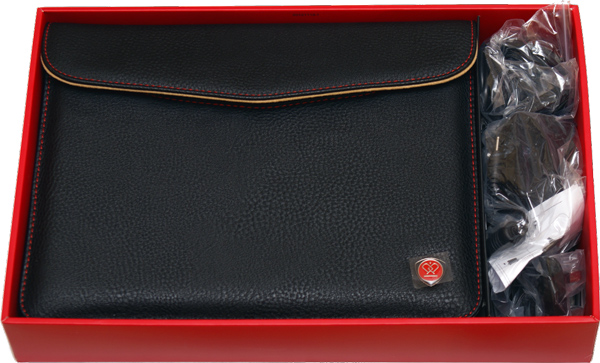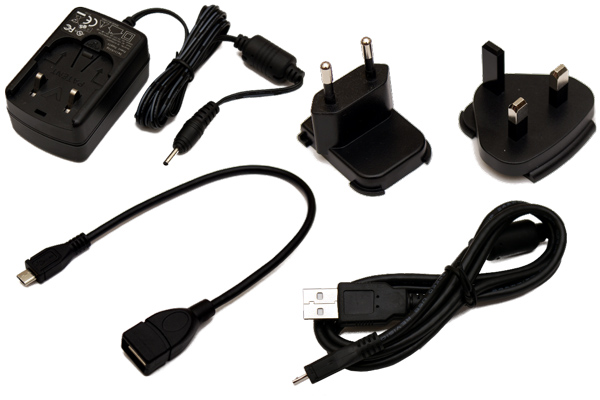 On the whole, the delivery package includes all the things needed for a proper work with the tablet; owing to the high-quality case, Prestigio PMP5597D's dowry may be called a rich one.
Appearance
The front panel and sides of Prestigio PMP5597D are made of plastic, while the back panel is made of metal. Such structural solution increased the tablet's weight, but made it look more presentably. Though, it isn't very convenient to hold the tablet with one hand – the back panel is rather slippery. Tablet dimensions are 243*190*11 mm, weight is 580 grams. On the whole, these are usual mass-dimensional properties for a tablet with 9.7'' diagonal.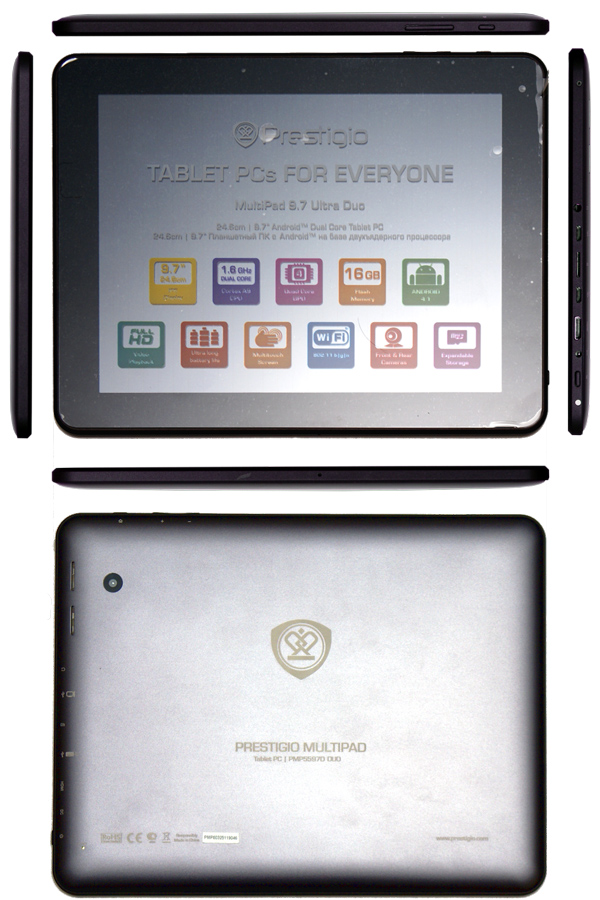 The front panel is glossy, of black colour (there is also an option of red colour). The sides are made of a softer plastic, which creates a feeling of rubber. Every push-button of the device is made of the same material. The front panel has a 9.7'' LCD IPS screen with 1024x768 resolution and multi-touch support. Prestigio PMP5597D's screen made a good impression on me by its soft and natural colour grade and, more importantly, by its black colour close to natural. Obviously, the manufacturer spared no expenses on the display, and supplied a fairly expensive IPS matrix. Good brightness capacity should also be mentioned; it allows using the tablet even in bright sunlight. It's a pity, however, that – due to the reflective type of the front panel – the screen has slight flares in bright lighting.
The display has a fairly wide frame, which you can hold, and the screen won't be covered. There is a 2 Mpx front-face camera in the top right corner of the front panel. Picture quality isn't the best possible, but it is sufficient for Skype conferences.
There is no lighting intensity sensor, and display brightness has to be adjusted manually.
The device's right side has a 3.5 mm output for headphones, a microUSB output for connection to a table PC, a slot for microSD standard memory cards with support for SDHC, a second microUSB output for connection of an OTG adapter, a miniHDMI output for connection to modern TV-sets, a round input for battery charger, and a tablet "ON" pushbutton. Sound quality when using headphones is fairly good, and volume capacity is very high. The microSD slot isn't protected by any covers; on the other hand, memory cards are ejected easily. The tablet had no problems reading the files on a 32 GB microSDHC memory card. Curiously enough, synchronisation and OTG outputs are divided, which isn't common for most tablets. Prestigio PMP5597D cannot be charged from USB, which is expressly mentioned in the manual. It is pleasant that every output on the right side is labelled, which allows the user not to make mistakes when connecting USB cables.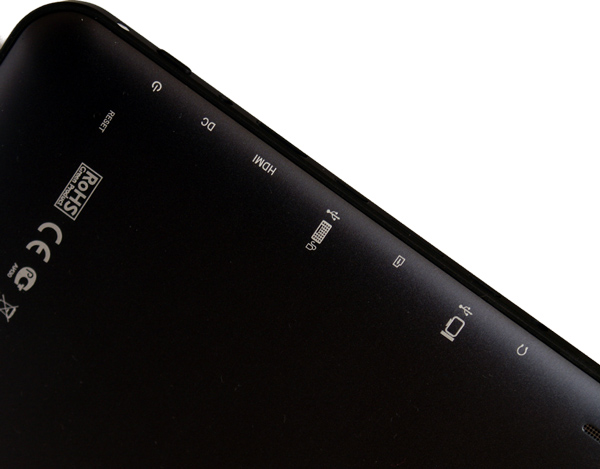 There are no functional elements on the device's left side. The lower side has an unidentified aperture that appeared to be a microphone as I have discovered experimentally.
The device's top side has volume control keys and a Home pushbutton (return to Android desktop). An additional control pushbutton is, certainly, useful – though at first, I often mistook it for "ON" pushbutton. The rear metal panel has one more 2 Mpx camera (the quality is as moderate as that of the front-face camera), the only loudspeaker's grill, and a flush reset button. The rear panel also includes the manufacturer's logo and the device's model name.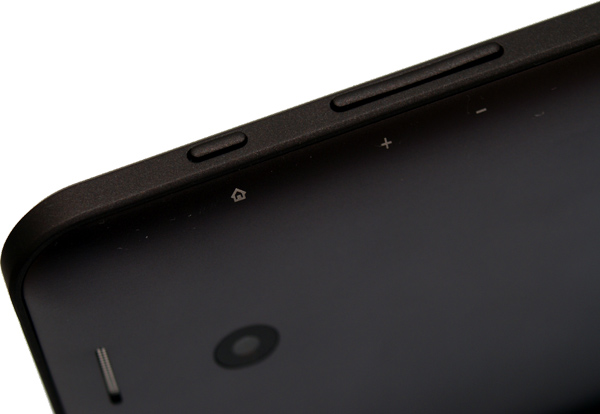 The built-in loudspeaker is fairly loud; when watching films, the sound can be heard even in noisy places. To reset the tablet, you'll need a paper-clip or a toothpick. However, as tests have demonstrated, this button is almost unnecessary.
The built-in lithium polymer battery has a substantial capacity of 7800 mAh. Such battery allows Prestigio PMP5597D playing films at medium brightness level during 7 hours. The tablet worked a bit less than 10 hours in the book reading mode. The result is very good for an Android based tablet.
On the other hand, the tablet's full charging time is also considerable – 5.5 hours.
Hardware
As in some other modern Prestigio tablets, PMP5597D has a dual core Rockchip RK3066 ARM processor with nominal frequency of 1600 MHz. Complemented by a 1 GB RAM and a quad core Mali 400 graphic accelerator, this processor produces fairly impressive performance results. The results of synthetic tests show that this tablet is at the level of top modern smartphones, such as HTC or Samsung. I didn't manage to find a single video in my collection of test BD rips that would make PMP5597D lag behind. The same is true for games – Asphalt 7, GTA, and Max Payne work without delays even at maximum settings.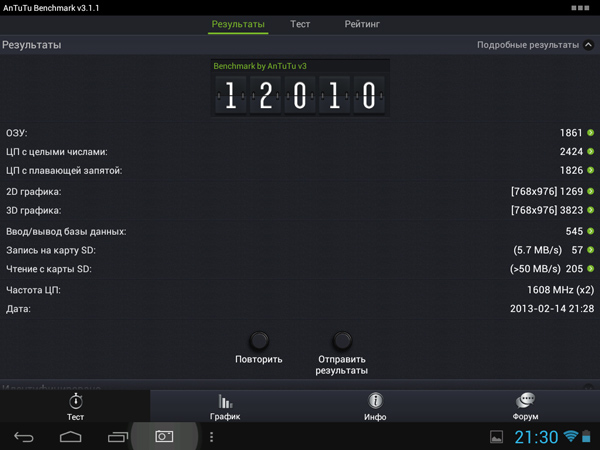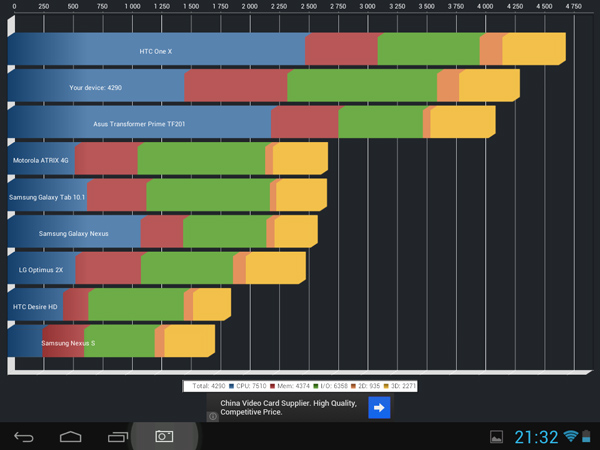 The availability of USB host functionality allows connecting not only USB flash drives, but also keyboards and some USB joysticks, which expands the tablet's gaming functions even more. In particular, I really wanted to play Max Payne Mobile on Prestigio PMP5597D, and not just to test the performance. The connected joystick really turns this tablet in a practically full-fledged mobile gaming console.
The tablet has only one built-in wireless interface, namely Wi-Fi. However, the Wi-Fi is most up-to-date – with 802.11n support. There are no problems with operating distance; the tablet has passed the test of 50 metres distance and 2 walls easily. The only nuance is that not every cheap access point (ZTE, TP-Link) operates well with this tablet under 802.11n standard. If you experience frequent groundless disconnections, it would be better to switch the access point to the 802.11g mode. On the other hand, there are no problems with Asus access points, and therefore no blame should be laid on this tablet.
An HDMI-miniHDMI adapter isn't included in delivery package; however, I found my own cable. There were no problems when connecting the tablet to my TV-set; system settings allow choosing various resolutions for an HDMI video out. As a multimedia player, PMP5597D's operation is 100% perfect.
G-sensor works perfectly right in the box; the settings allow performing calibration – however, I for one didn't need it. The built-in memory volume is 16 GB, of which 13 GB are accessible for user. When connected to a PC through the respective microUSB output, the tablet is identified as two removable disks (internal storage and memory card). Having connected the cable, don't forget to permit the USB drive mode by clicking on the icon near the clock.
Software
Prestigio PMP5597D is a modern tablet. Therefore, it has a state-of-the-art operational system – Android 4.1. I tested the tablet with 1.0.7 firmware version. There is currently no fresher firmware on the manufacturer's website, so all the tests were performed on the factory firmware version.
After switching the tablet on and watching colourful company screen, we see Android 4.1 desktop. Operational system speed is fairly pleasant; the times when Android-tablets navigated through system menus slowly became the thing of the past. As in other Prestigio tablets, this one has two sets of supplementary applications – one set is originally built in the firmware, while the second can be installed by means of the proprietary Prestigio Installer utility.
The first group includes a file manager, the proprietary book reader Prestigio eReader, and OfficeSuite Pro 6.1. Prestigio eReader is a good application for reading books with a pleasant stylish interface. It has an integrated store for downloading additional books, specially adapted for a convenient viewing on the tablet screen.
The second set of applications includes the best mobile browser Opera, Flash Player, a solitaire set 250+ Solitaires, Angry Birds and Chess Free games, Skype, Twitter, Facebook, YouTube, Yandex application set (only delivered for Russian market), Instagram photo service, RIA Novosti news informer (only delivered for Russian market), programme for storing files in the cloud storage SygarSync, currency converter, currency informer Stock Alert, and Prestigio's proprietary application for working with stock-exchange quotations Blue.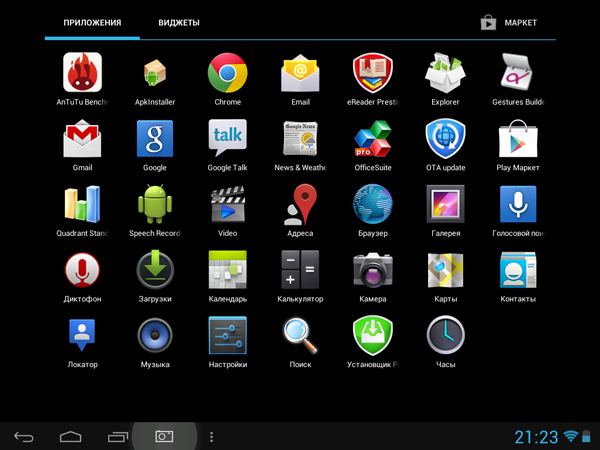 On the whole, there were no problems as for the stability of the tablet's operation.
Conclusion
Prestigio MultiPad 9.7 ULTRA DUO is a stylish modern tablet, capable of performing a wide range of tasks. It combines high performance equal to the level of flagship Android devices, a pleasant IPS screen, and long-term autonomous operation. The one thing I would add in this device is Bluetooth interface for communication with mobile phone – after all, not every mobile device can operate as an access point, and an external USB modem would be inconvenient if used frequently.